Regular price
Sale price
$13.99
Unit price
per
Sale
Sold out
As kids we were drawn in by the trio of delightful colors of traditional rainbow sherbet ice-cream, until our first lick where we could link each bright color to a flavor. Green for zingy lime, pink for sweet yet slightly tart raspberry and orange that tastes just like the actual fruit! Together these colors combined to form a rainbow of delicious flavor and soon became your favorite treat! Soon you were mixing flavors together and discovered that a scoop of creamy chocolate worked very well with the signature fruity and tangy taste of creamy sherbet ice-cream. This Rainbow Sherbet Jumbo Organic Lip Balm smells and tastes just like the real thing. In fact, we highly recommend layering it with our White Chocolate Jumbo Organic Lip Balm for an out of this world flavor explosion!
DELICIOUS ORGANIC LIP BALM TO SOOTHE EVEN YOUR WORST CHAPPED LIPS

TRIPLE THE VALUE AND NOURISHMENT – EACH JUMBO LIP BALM IS .50 OZ - MORE THAN 3 TIMES THE SIZE OF A REGULAR LIP  BALM

MADE IN THE U.S. - GREAT FOR KIDS (OF ALL AGES) – DELICIOUS & FUN

USDA CERTIFIED ORGANIC - NO ARTIFICIAL OR SYNTHETIC INGREDIENTS

100% CRUELTY FREE – NEVER TESTED ON ANIMALS – PETA RECOGNIZED
Taste the rainbow of fruit flavors in my newest confection. Treat yourself to a super hydrating and refreshing mix of lime, orange and raspberry. Your chapped lips will eat it up. 
The best things come in big packages so I made my lip balms 3x the size of the average lip balm. You're going to love having them with you wherever you go and won't lose them so easily. 
My lip balms have all been certified organic by the USDA and contain only 4 simple ingredients including organic coconut oil mixed up with vitamins and organic flavors. They're delicious, fun and good for the whole family. Great for kids because they love using them so you better get 2!  

Flavor Details: Zesty lime, tart raspberry and juicy orange. 
Share
View full details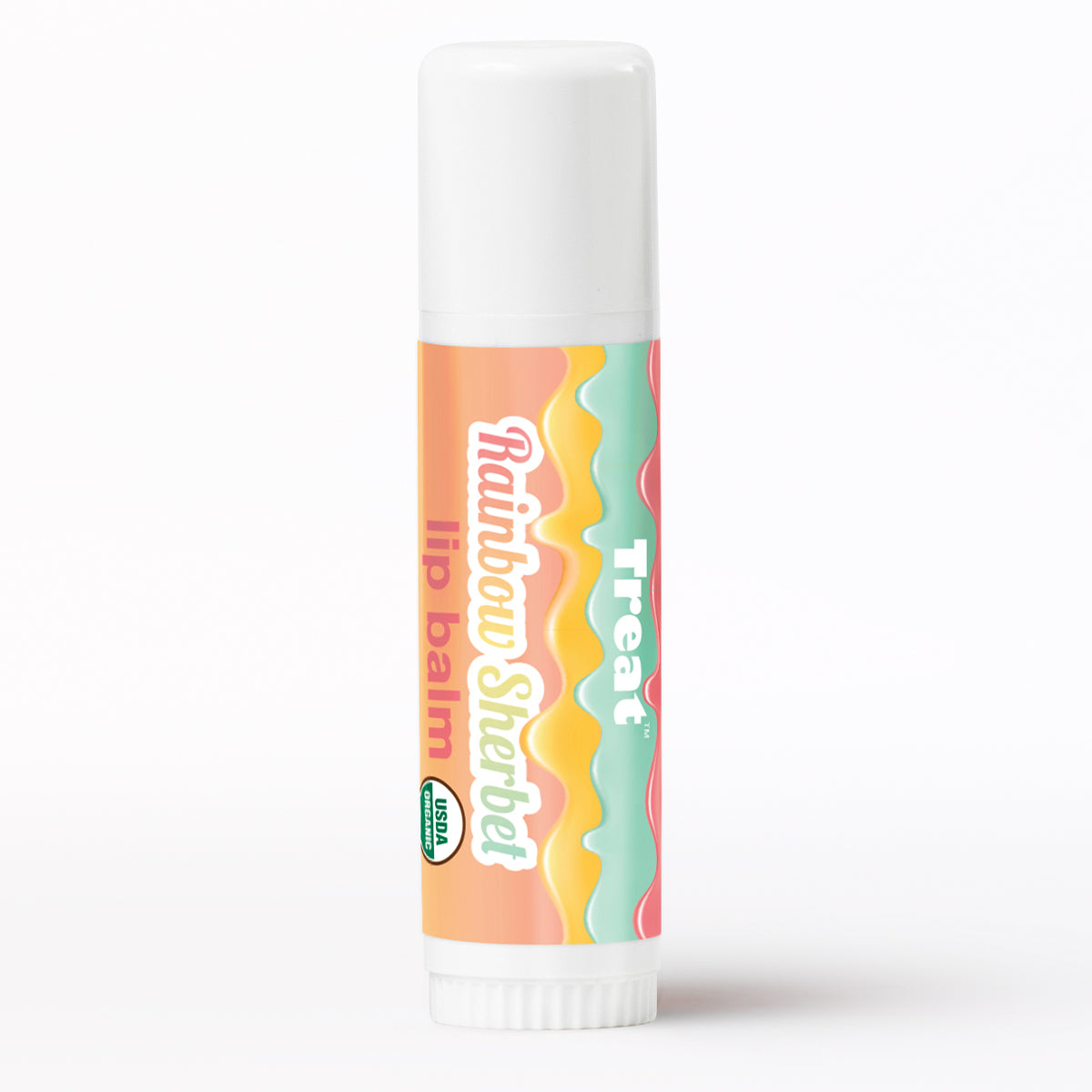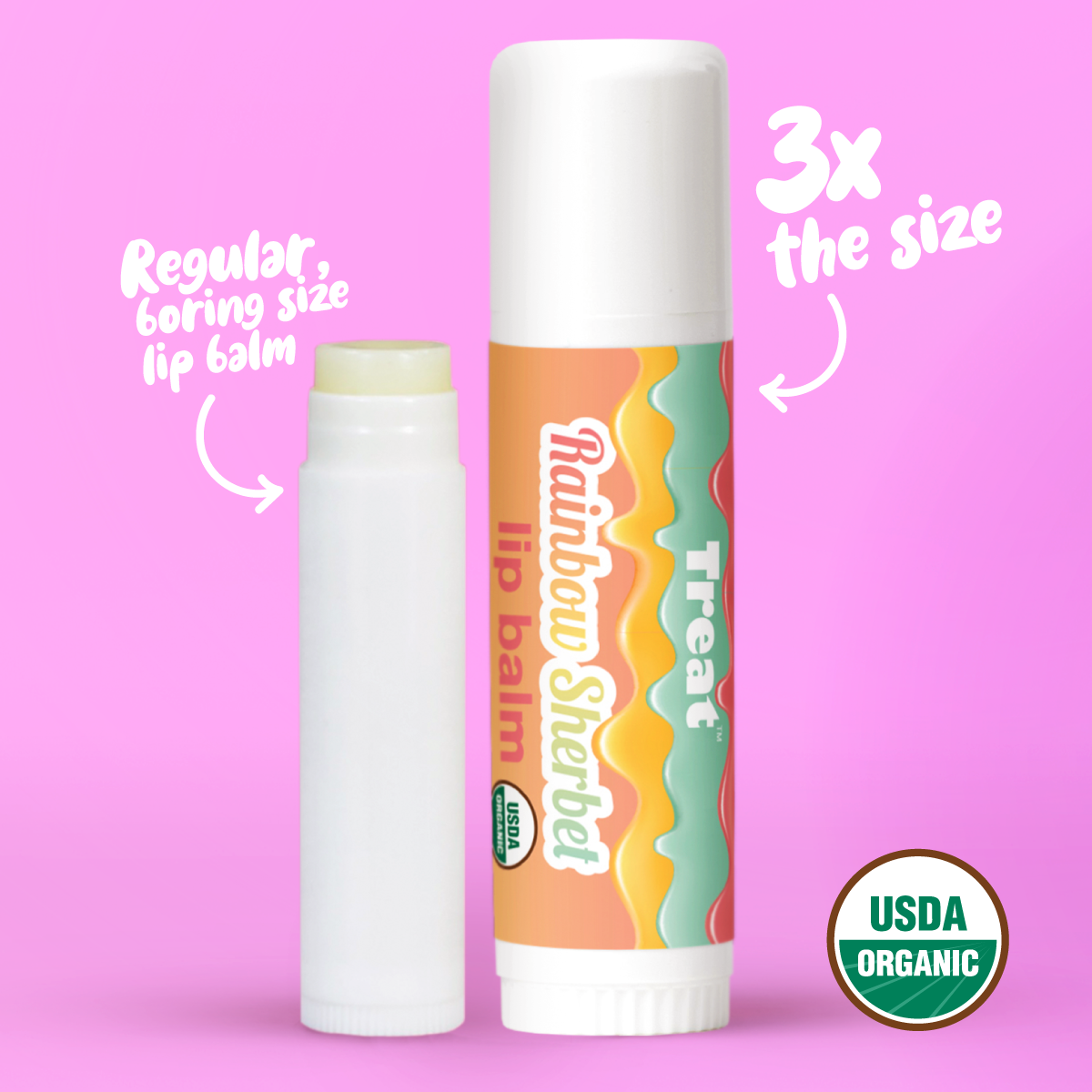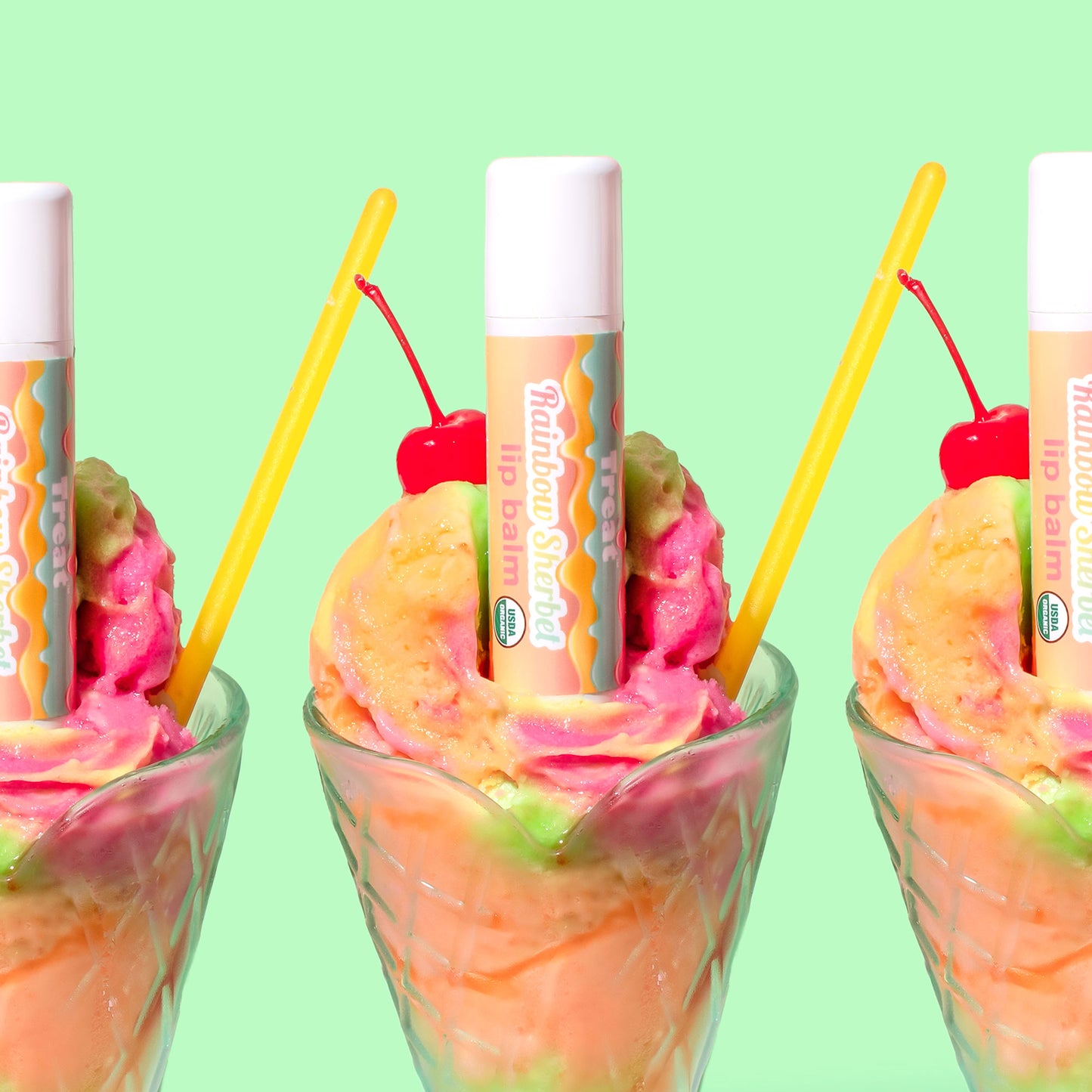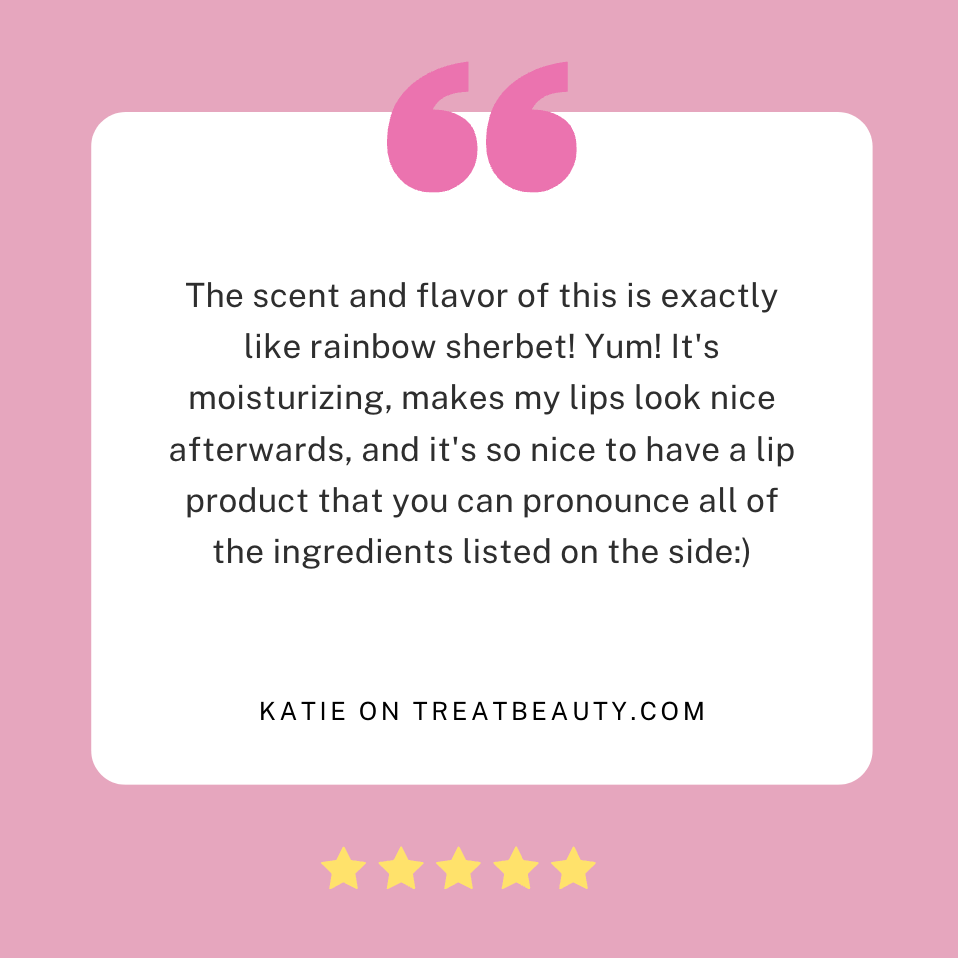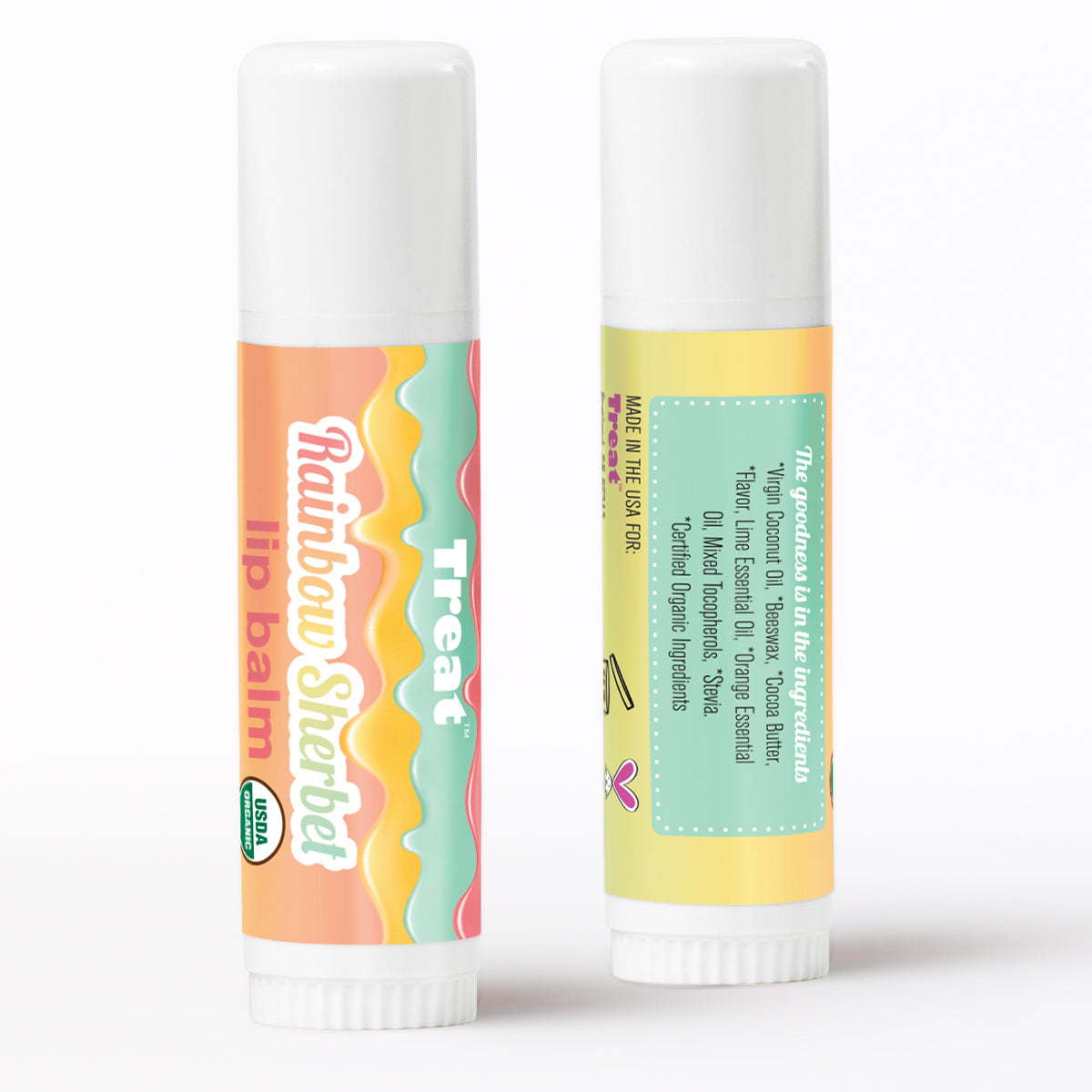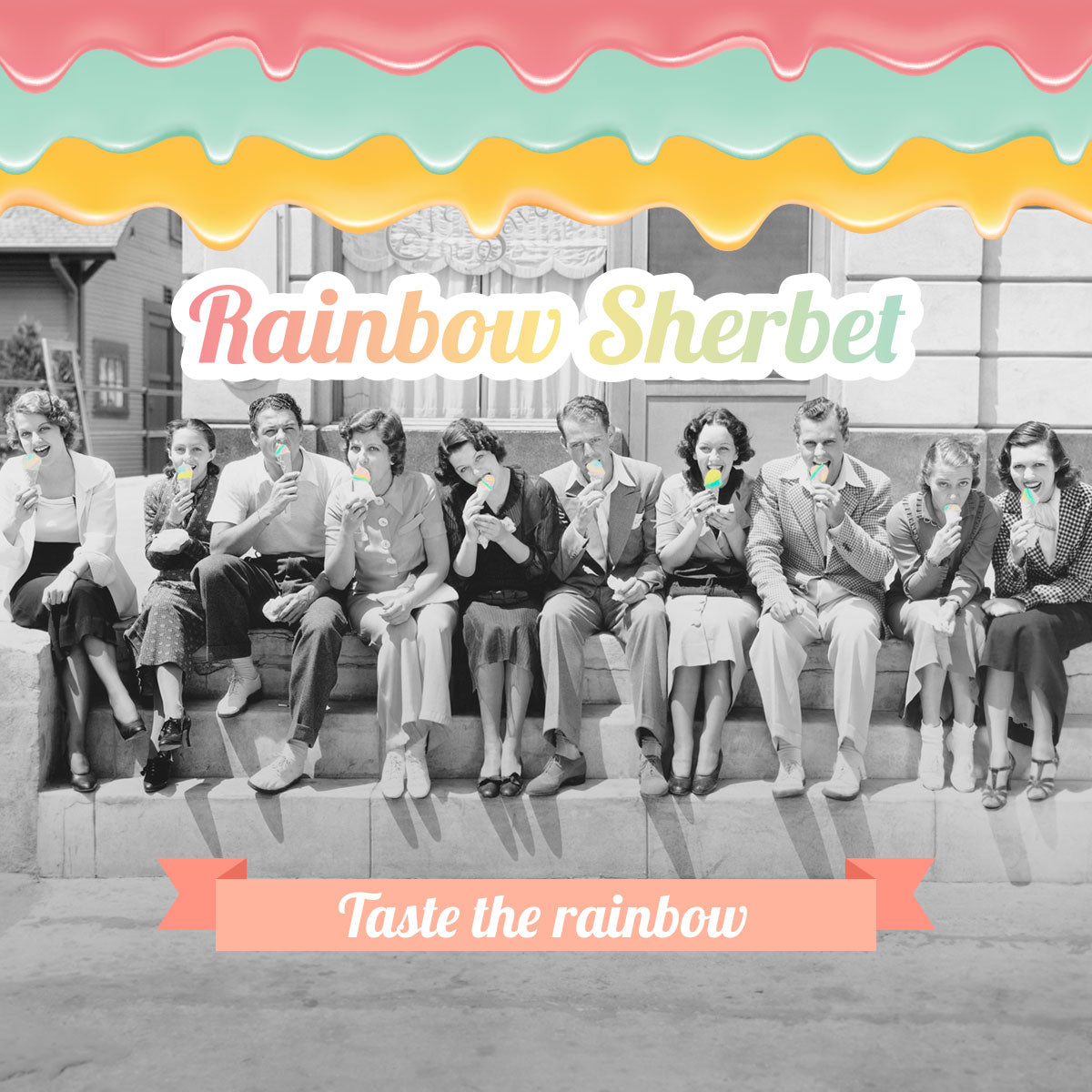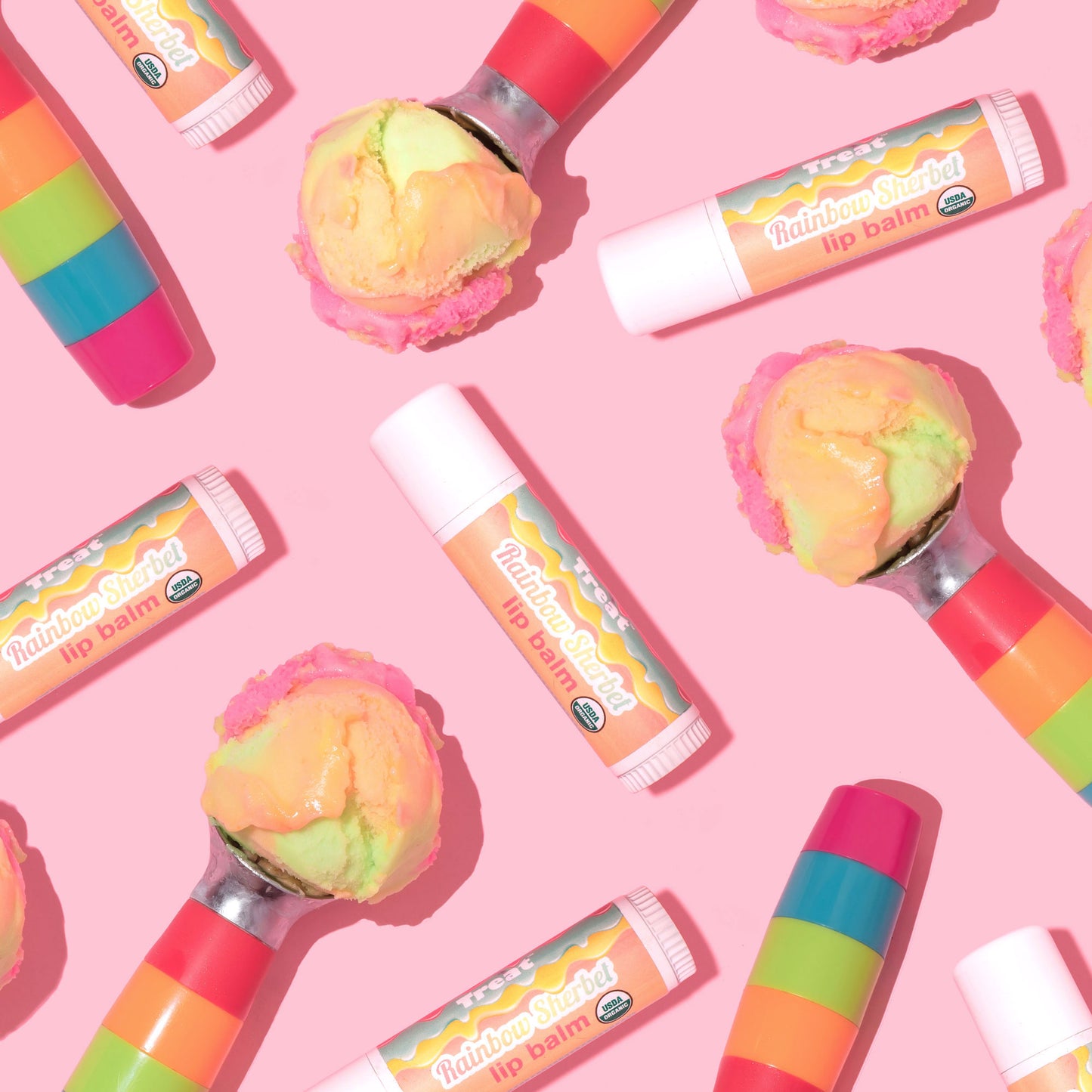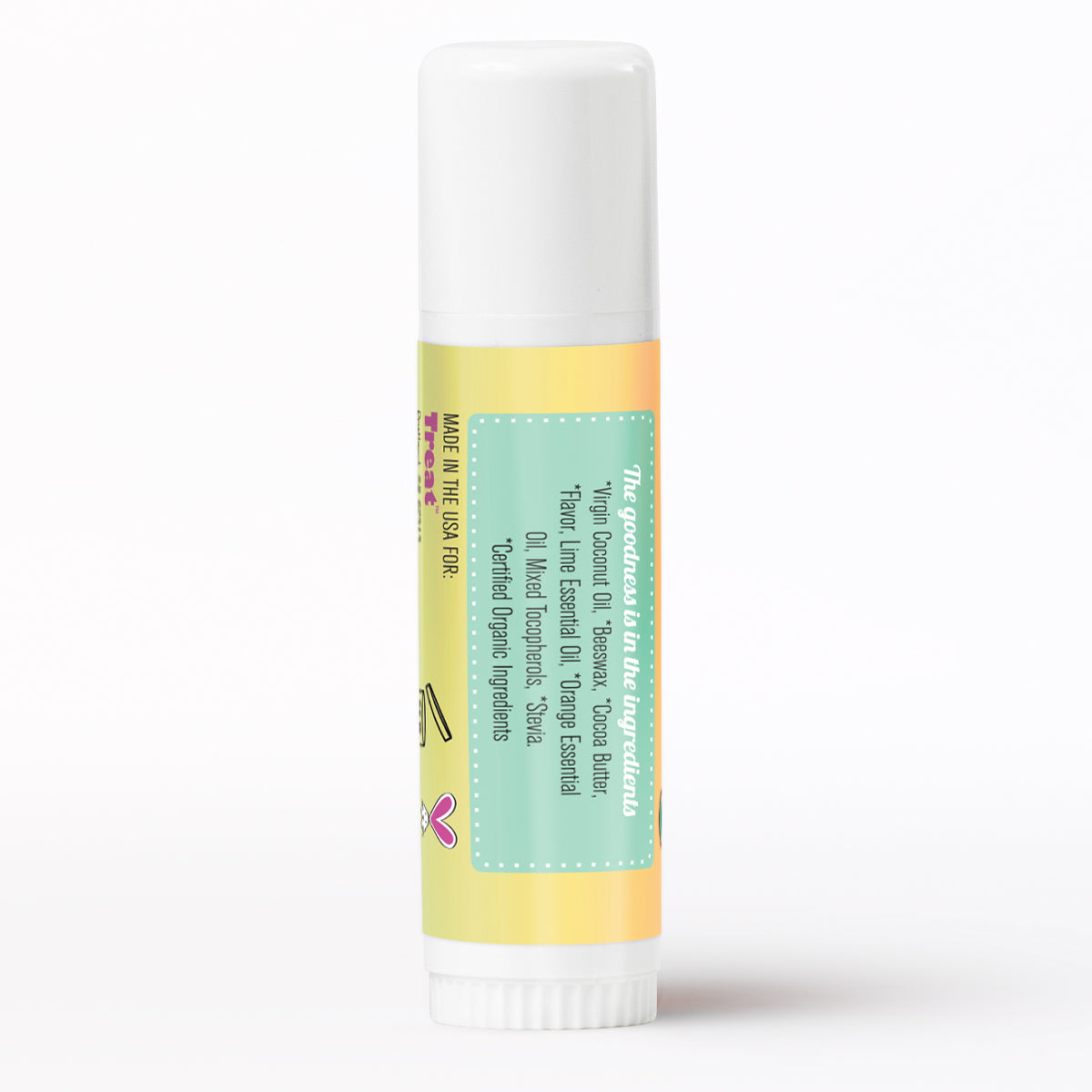 See why bigger is better
(Your lips will thank you)
Each jumbo lip balm is .50 oz - more than 3x the size of a regular lip balm!
⭐️ ⭐️ ⭐️ ⭐️ ⭐️
"Most Treat balm reviews center around the scents, flavors, and textures, which many times is based on personal preference. So much to enjoy! Rainbow Sherbet was my very first purchase and I've loved it from the start. I've purchased several others, but keep going back to this one because of its STAYING POWER. It lasts longer on my lips than any I've tried and that's important to me. When I put it on before bed it's still there in the morning and I don't have to reapply much throughout the day. One tube lasts me forever! It's a bonus that I love the scent and flavor, and the texture is always smooth. I've been trying to figure out why this one works so well for me and I'm wondering if it's the added essential oils. Many have much of the same ingredients, but not all have the oils. I'm ordering this one again today and adding the Orange for the first time to see if I get similar results."-Melanie
Always 100% Natural
All our Treats are formulated with the best ingredients available!
100% cruelty free – never tested on animals – PETA recognized