Regular price
Sale price
$13.99
Unit price
per
Sale
Sold out
I loved grape flavor as a kid – grape juice, grape popsicles, grape candy… Okay, it was partly because it made my mouth turn purple and I could stick out my tongue to scare my parents, but it was also because there was nothing quite like that rich, berry-sweet Concord-grape flavor. Fast forward to present day – I'm in the Treat kitchen, sampling grape flavors and I finally hit on that authentic ZING – that undeniable POW. Yes, folks, it's the grape flavor of your childhood barreling at you with full force from a gigantic moisture stick!
Grape Jumbo Organic Lip Balm is here! My balms are three times the size of regular boring sticks, keeping your kisser refreshed and ready to pucker. It's so exhilarating to pop the cap off a Treat Beauty balm because one glide across your lips delivers all the goodness of Organic Virgin Coconut Oil, Organic Cocoa Butter, Organic Beeswax, Organic Shea Butter and Organic Flavor – seeping into your pores and rejuvenating your mouth to the extreme. Now, put that together with a delicious grape explosion – and you've got your next lip-relief go-to.
A DELICIOUS MEGA-SIZE ORGANIC LIP BALM TO SOOTHE EVEN YOUR WORST CHAPPED LIPS


TRIPLE THE VALUE AND NOURISHMENT – EACH JUMBO LIP BALM IS .50 OZ - MORE THAN 3 TIMES THE SIZE OF A REGULAR LIP  BALM

MADE IN THE U.S. - GREAT FOR KIDS (OF ALL AGES) – DELICIOUS & FUN

USDA CERTIFIED ORGANIC - NO ARTIFICIAL OR SYNTHETIC INGREDIENTS

100% CRUELTY FREE – NEVER TESTED ON ANIMALS – PETA RECOGNIZED
My lip balms have all been certified organic by the USDA and contain only 4 simple ingredients mixed up with vitamins and organic flavors. They're delicious, fun and good for the whole family. Great for kids because they love using them so you better get 2!  
Flavor Details: Grape is a rich, berry-sweet Concord-grape flavor. If you are a fan of fruity, sweet flavors and grape...this flavor is for YOU! 
Ingredients

What's in this hydrating recipe?

*Organic Virgin Coconut Oil, *Organic Beeswax, *Grape Flavor (organic fruit & plant extracts in a vegetable carrier oil), *Organic Cocoa Butter, *Organic Shea Butter, Vitamin E, *Organic Stevia Leaf Extract, *Certified Organic Ingredients
Share
View full details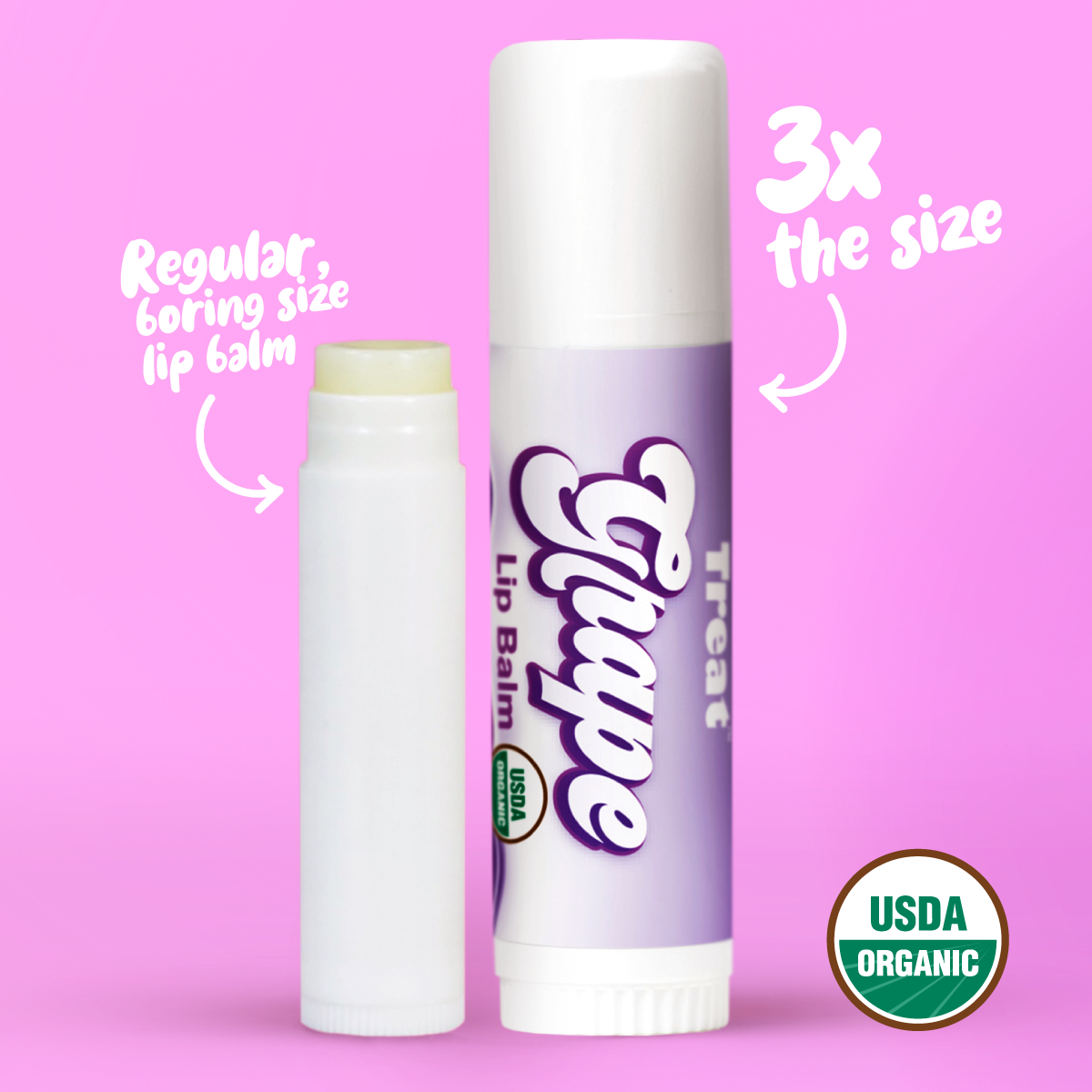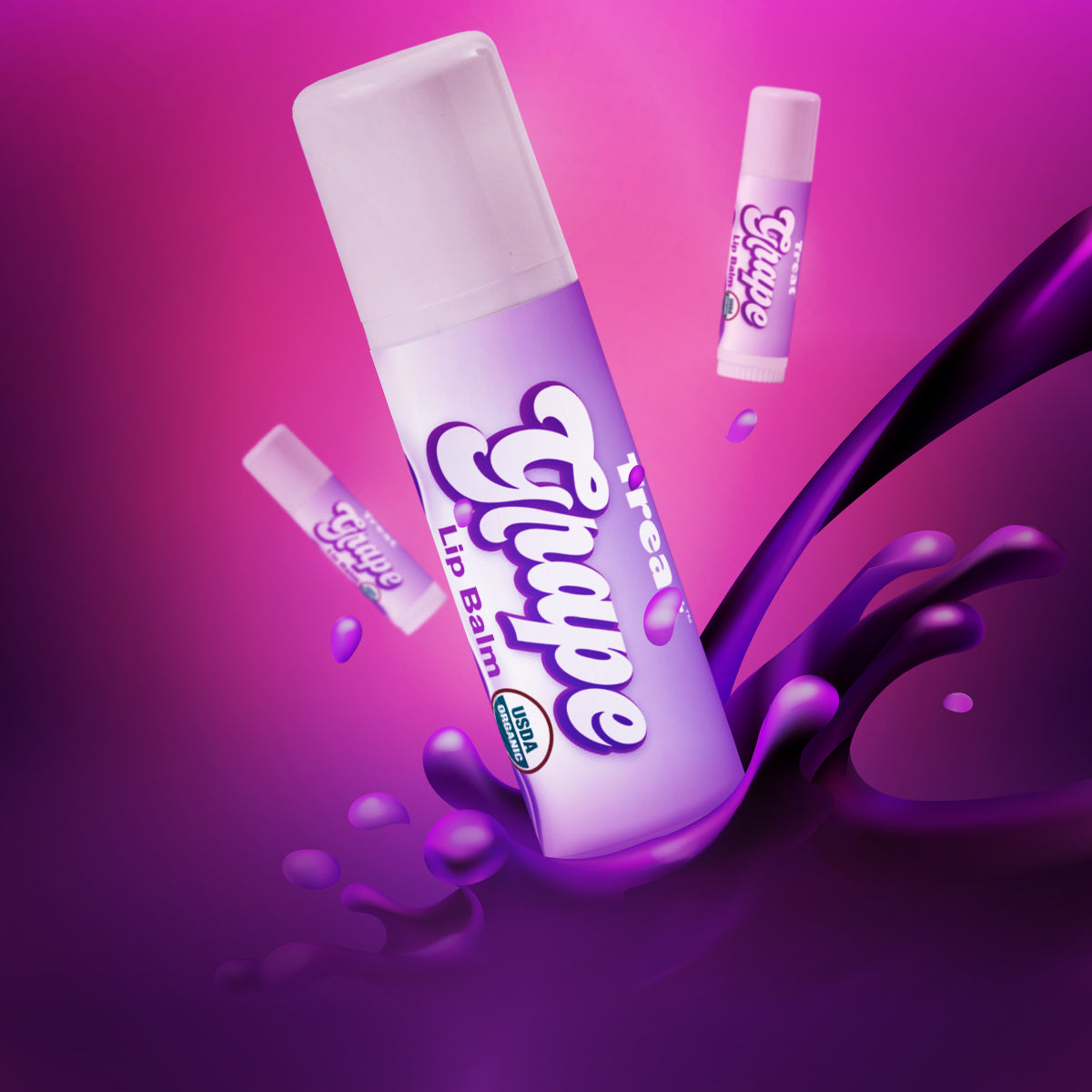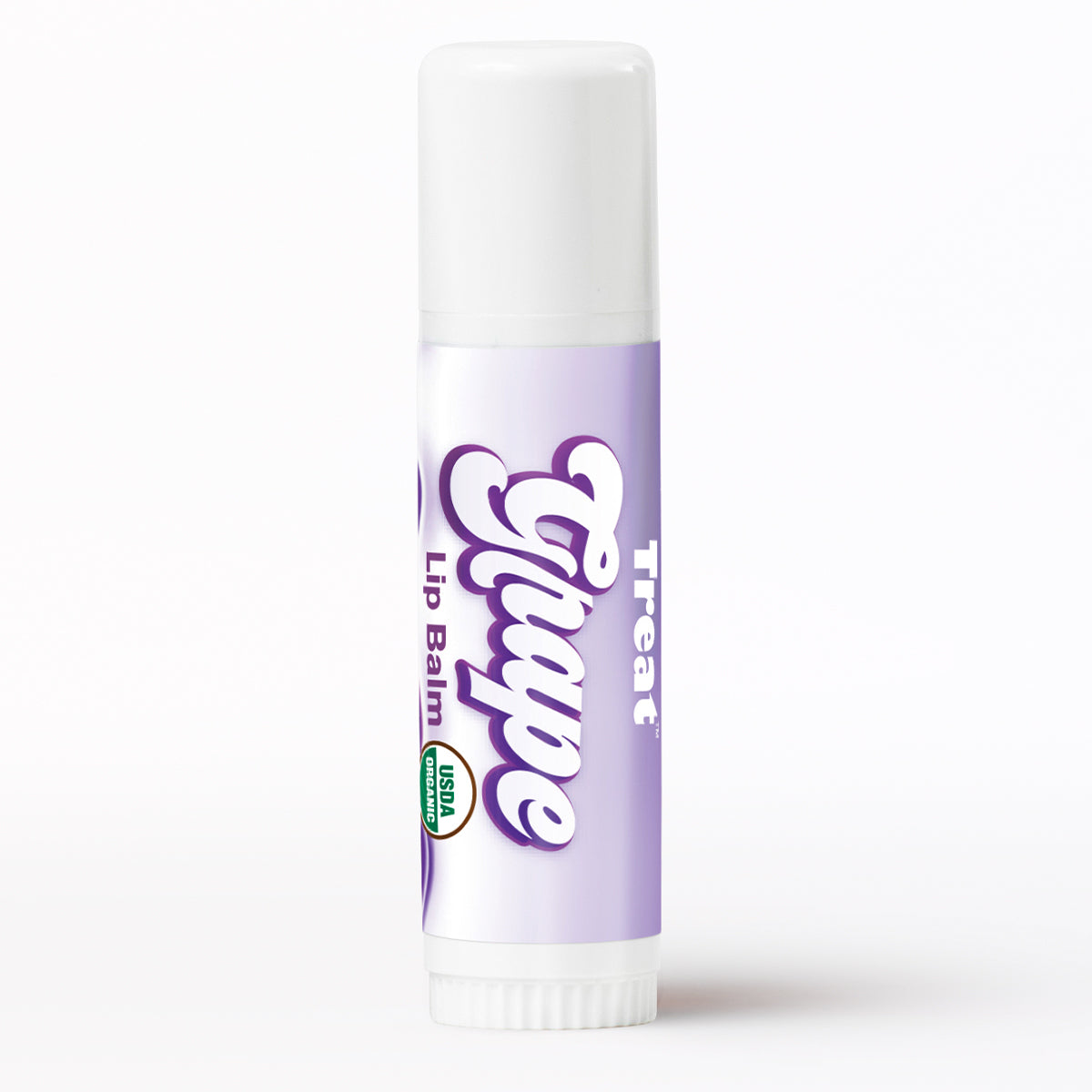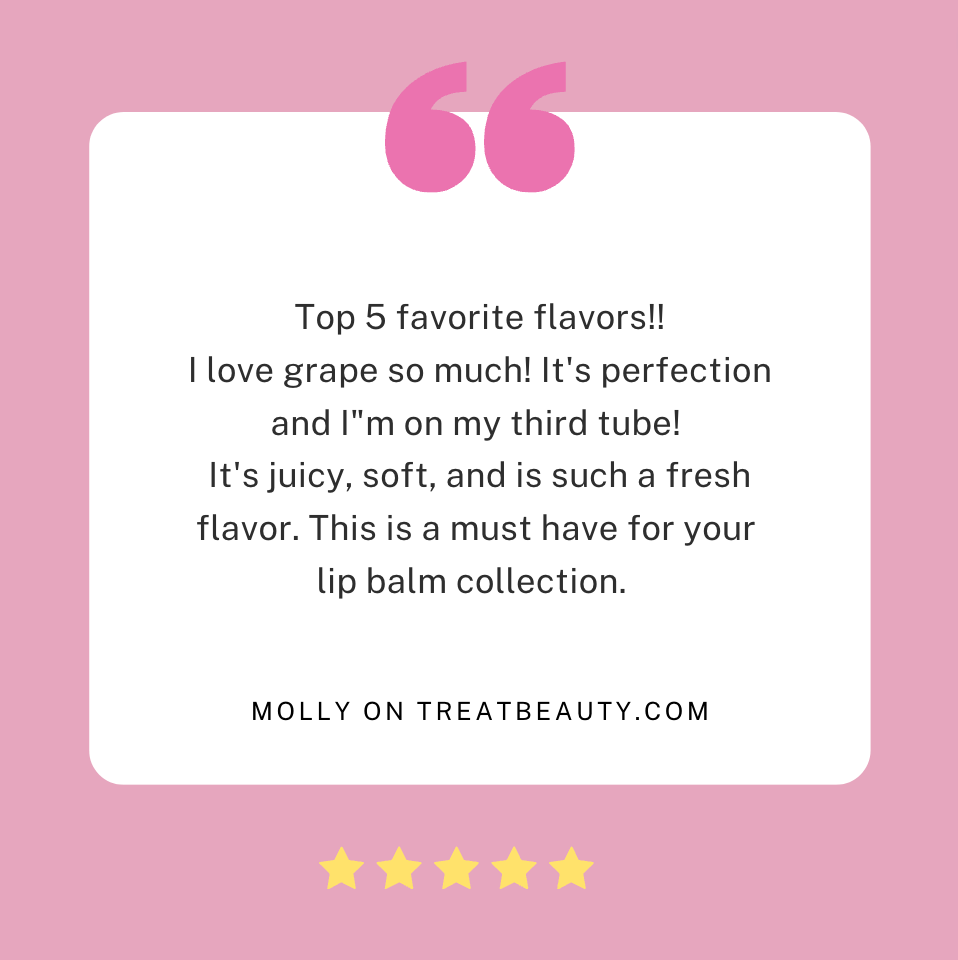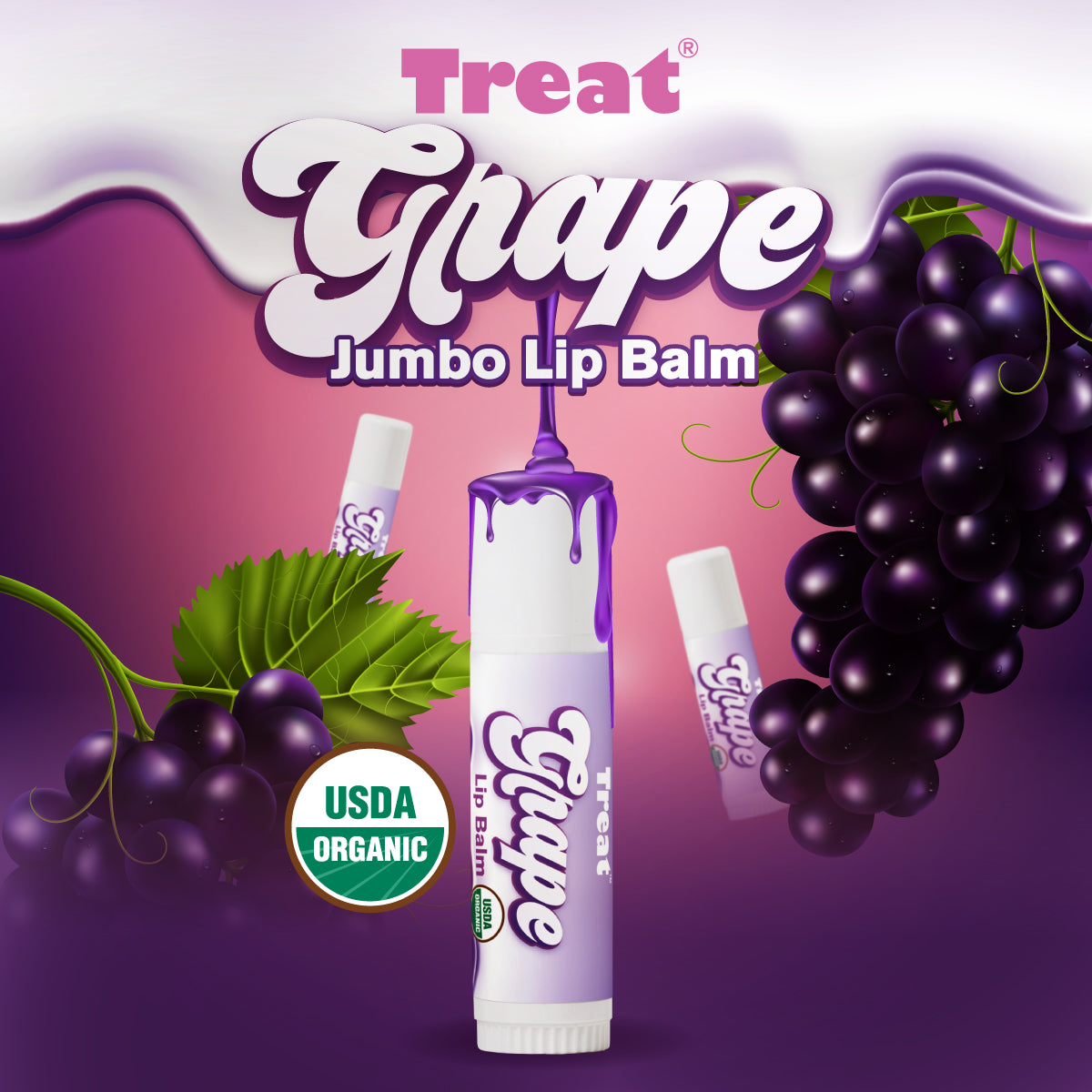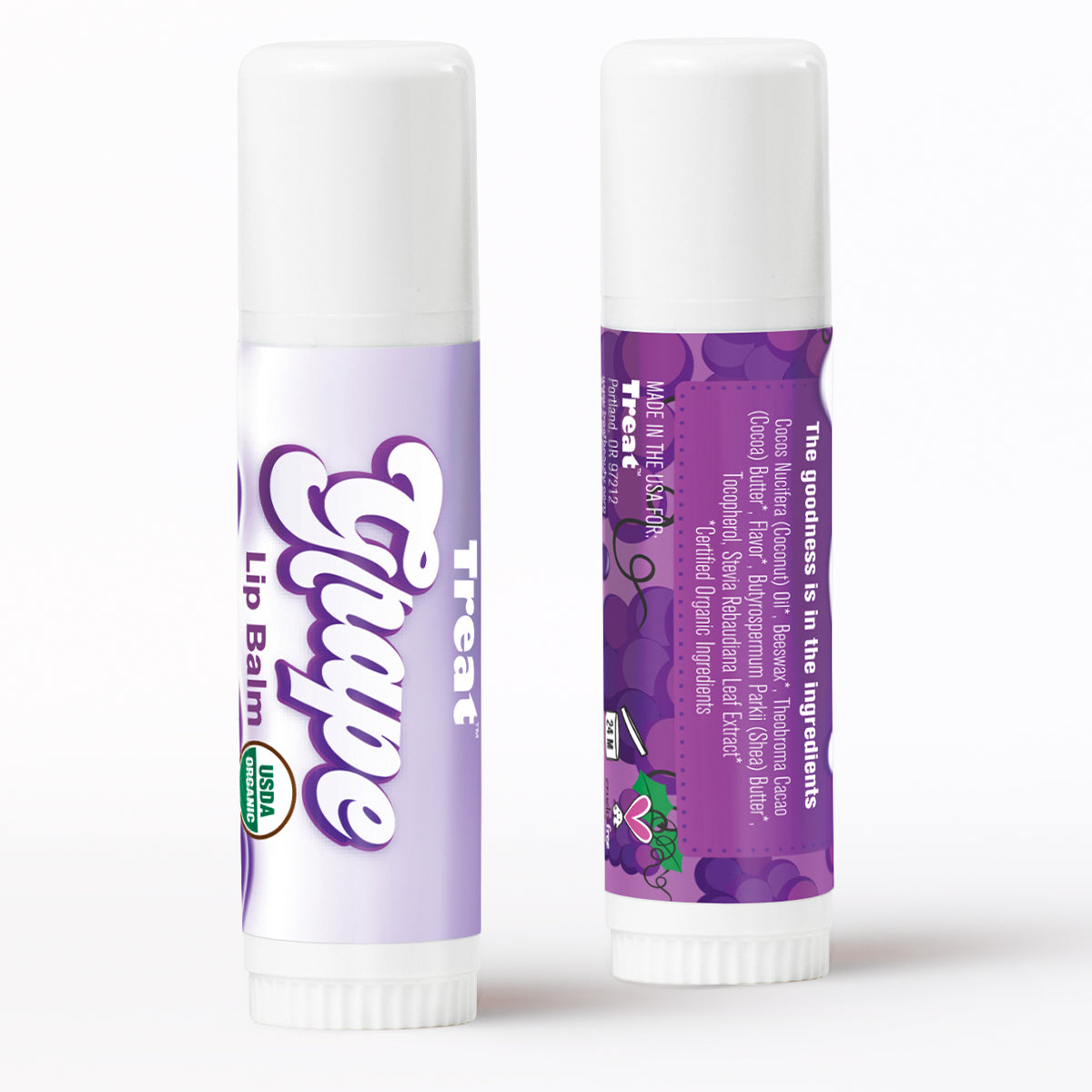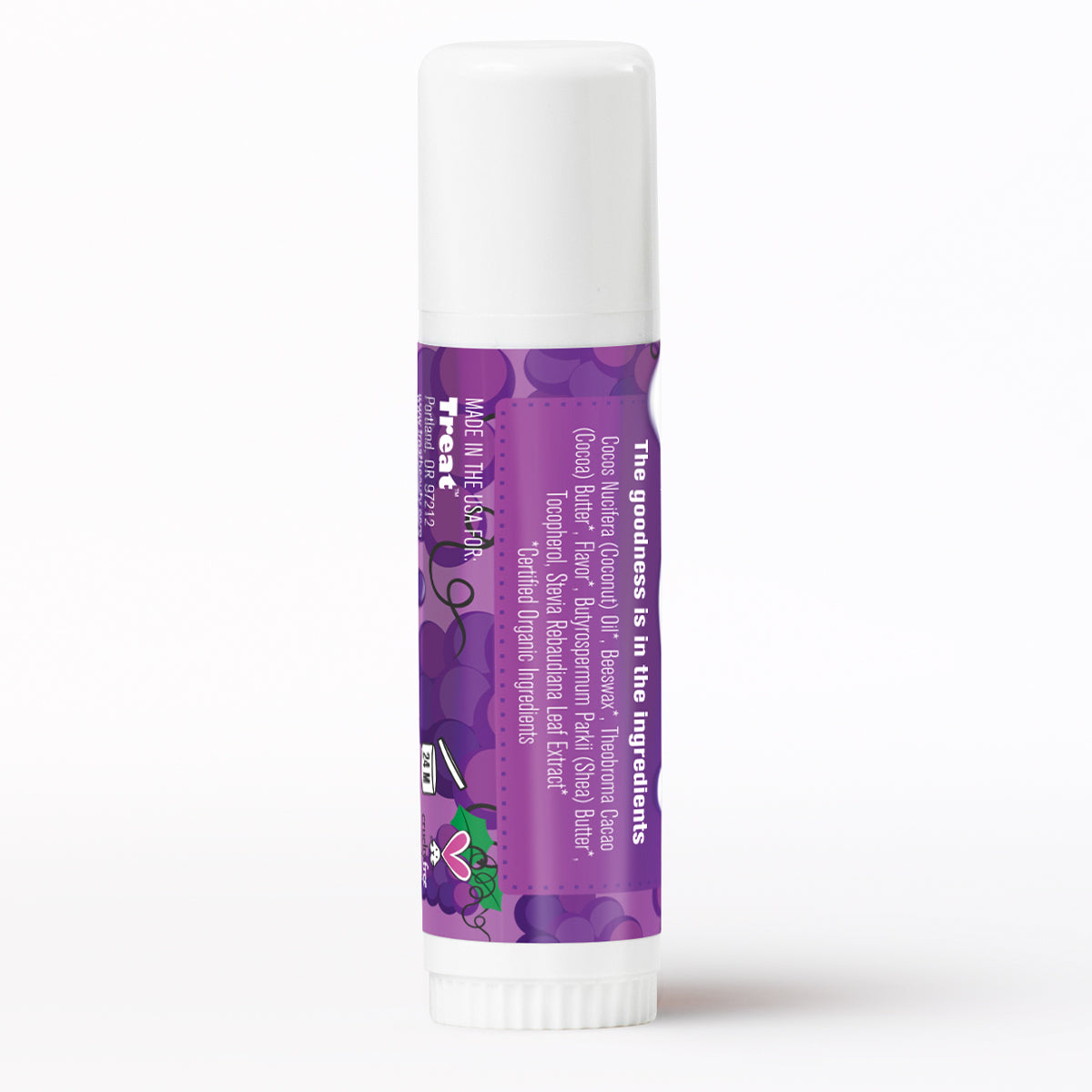 See why bigger is better
(Your lips will thank you)
Each jumbo lip balm is .50 oz - more than 3x the size of a regular lip balm!
⭐️ ⭐️ ⭐️ ⭐️ ⭐️
"Applys so smooth. The smell is strong and smells like grape bubble gum tape."- Nellie
Always 100% Natural
All our Treats are formulated with the best ingredients available!
100% cruelty free – never tested on animals – PETA recognized