Regular price
Sale price
$13.99
Unit price
per
Sale
Sold out
When an Italian chocolatier in the 1800s came up with the idea to stretch his chocolate with hazelnuts during a cocoa shortage, little did he know that this sweet and nutty combo would grow to be one of the most popular flavors in the history of confections! For me, it always reminds me of going to the fancy chocolate store with my mom as a kid. I was allowed to choose one truffle and I always picked one with hazelnut chocolate. Why? It made my whole body feel dreamy with every bite of that roasty-toasty nutty rich-and creamy chocolate flavor.
Now that I'm in charge of thrilling my customers with the tastiest Treat-ilicious jumbo lip balm flavors I can find, hazelnut-chocolate is at the top of the list. Inside the giant moisture stick you know and love, I've packed in the scrumptious "gianduja" taste with my soothing recipe that includes Organic Virgin Coconut Oil, Organic Cocoa Butter and Organic Shea Butter and Organic Flavor.
It's a balanced sweetness that is so satisfying you just want to keep slathering it on! Rich and comforting like nutty chocolate itself, this lip quenching balm covers your kisser in one glorious application – because it's three times the size of ordinary lip balm! Get that chocolate hit any time you want, all day long - with the pure ingredients that heal your lips while rocking your world with sweet nutty chocolate heaven.
A DELICIOUS MEGA-SIZE ORGANIC LIP BALM TO SOOTHE EVEN YOUR WORST CHAPPED LIPS


TRIPLE THE VALUE AND NOURISHMENT – EACH JUMBO LIP BALM IS .50 OZ - MORE THAN 3 TIMES THE SIZE OF A REGULAR LIP  BALM

MADE IN THE U.S. - GREAT FOR KIDS (OF ALL AGES) – DELICIOUS & FUN

USDA CERTIFIED ORGANIC - NO ARTIFICIAL OR SYNTHETIC INGREDIENTS

100% CRUELTY FREE – NEVER TESTED ON ANIMALS – PETA RECOGNIZED
My lip balms have all been certified organic by the USDA and contain only 4 simple ingredients mixed up with vitamins and organic flavors. They're delicious, fun and good for the whole family. Great for kids because they love using them so you better get 2!  
 Flavor Details: A sweet nutty slice of chocolate heaven.
Share
View full details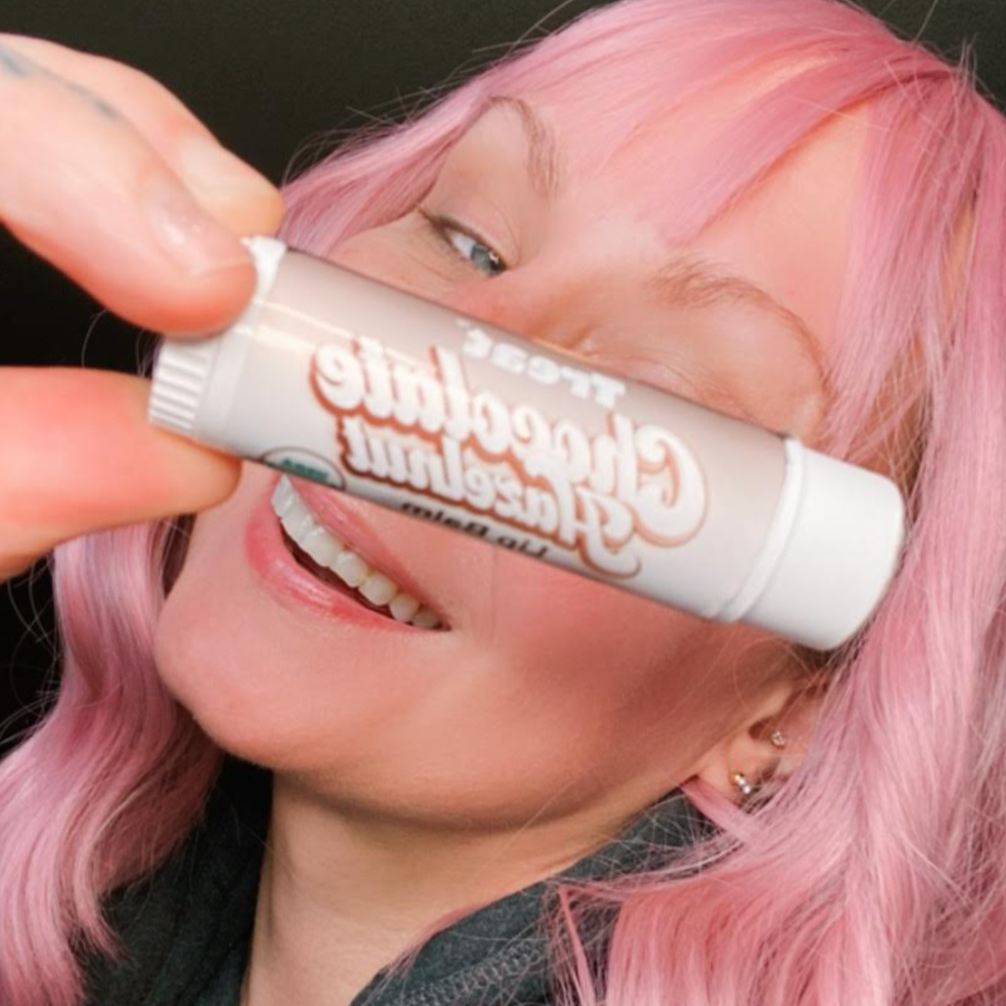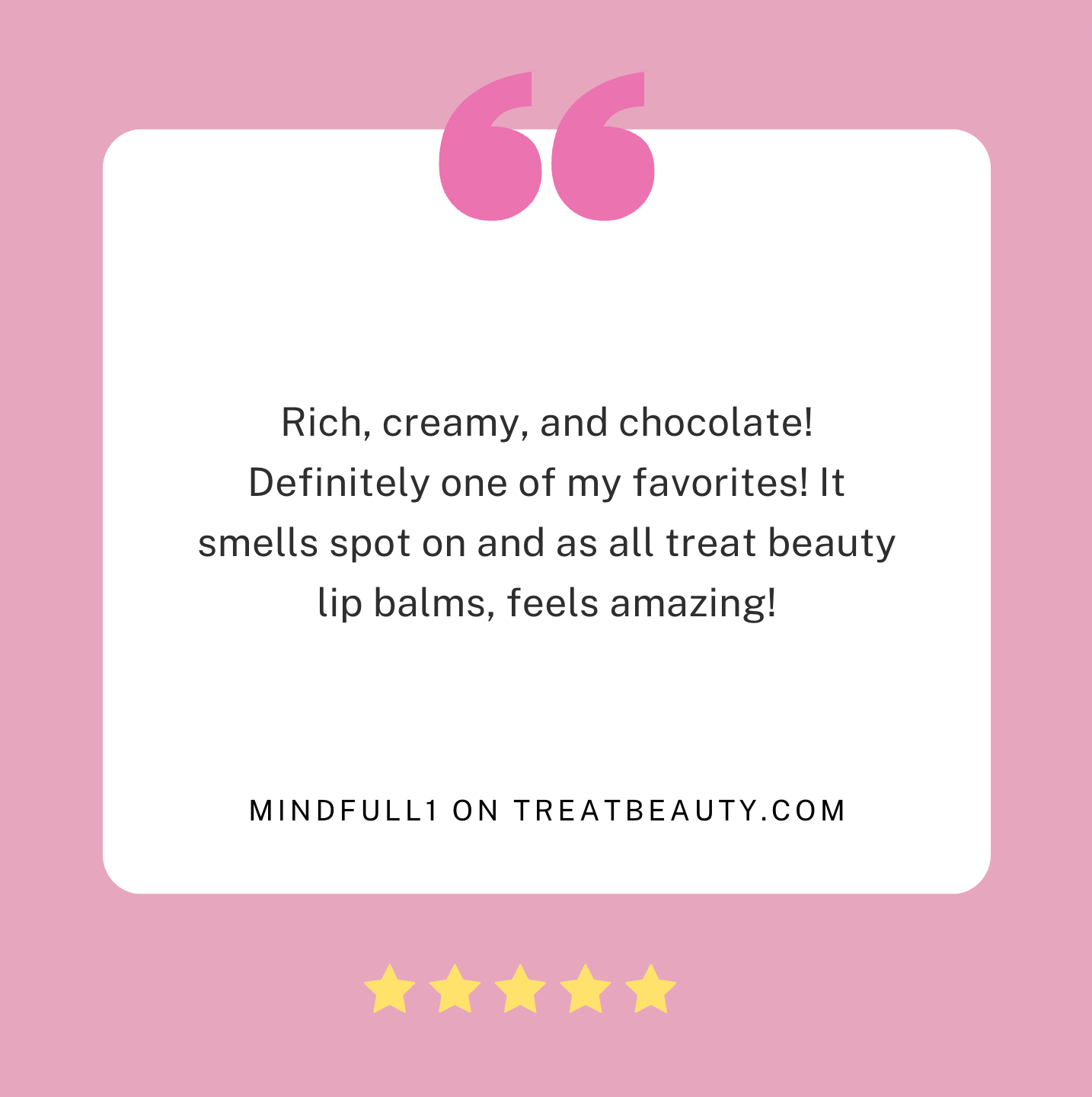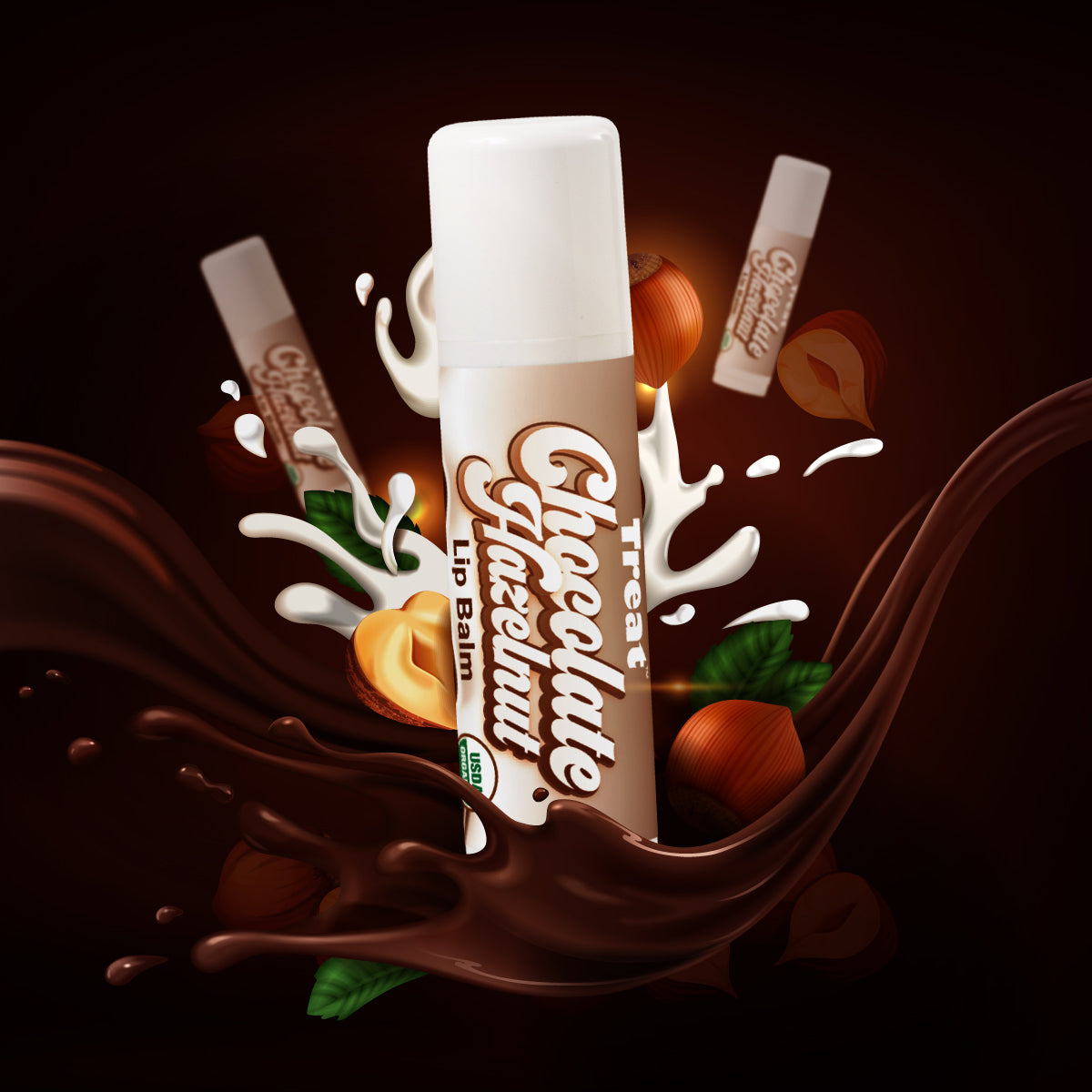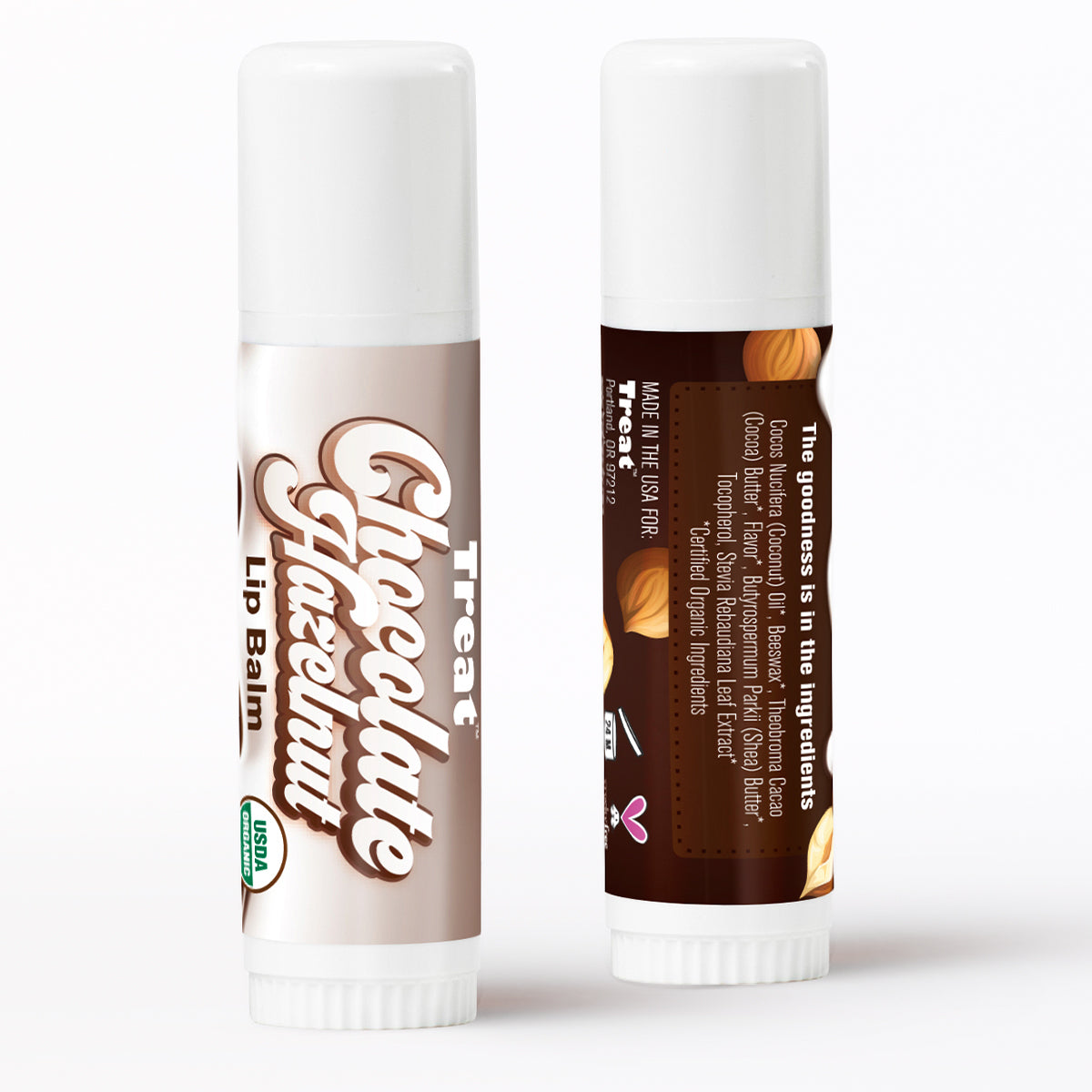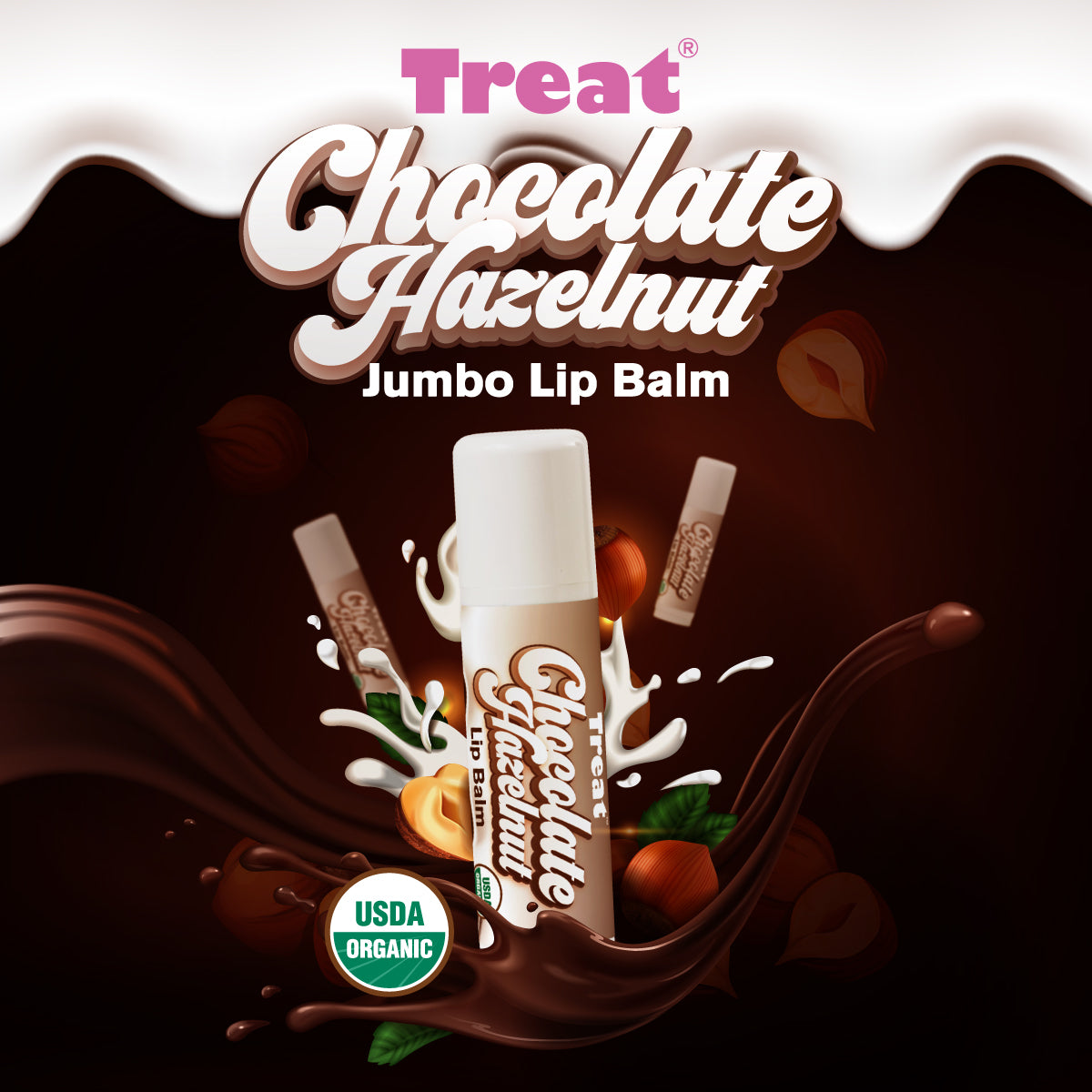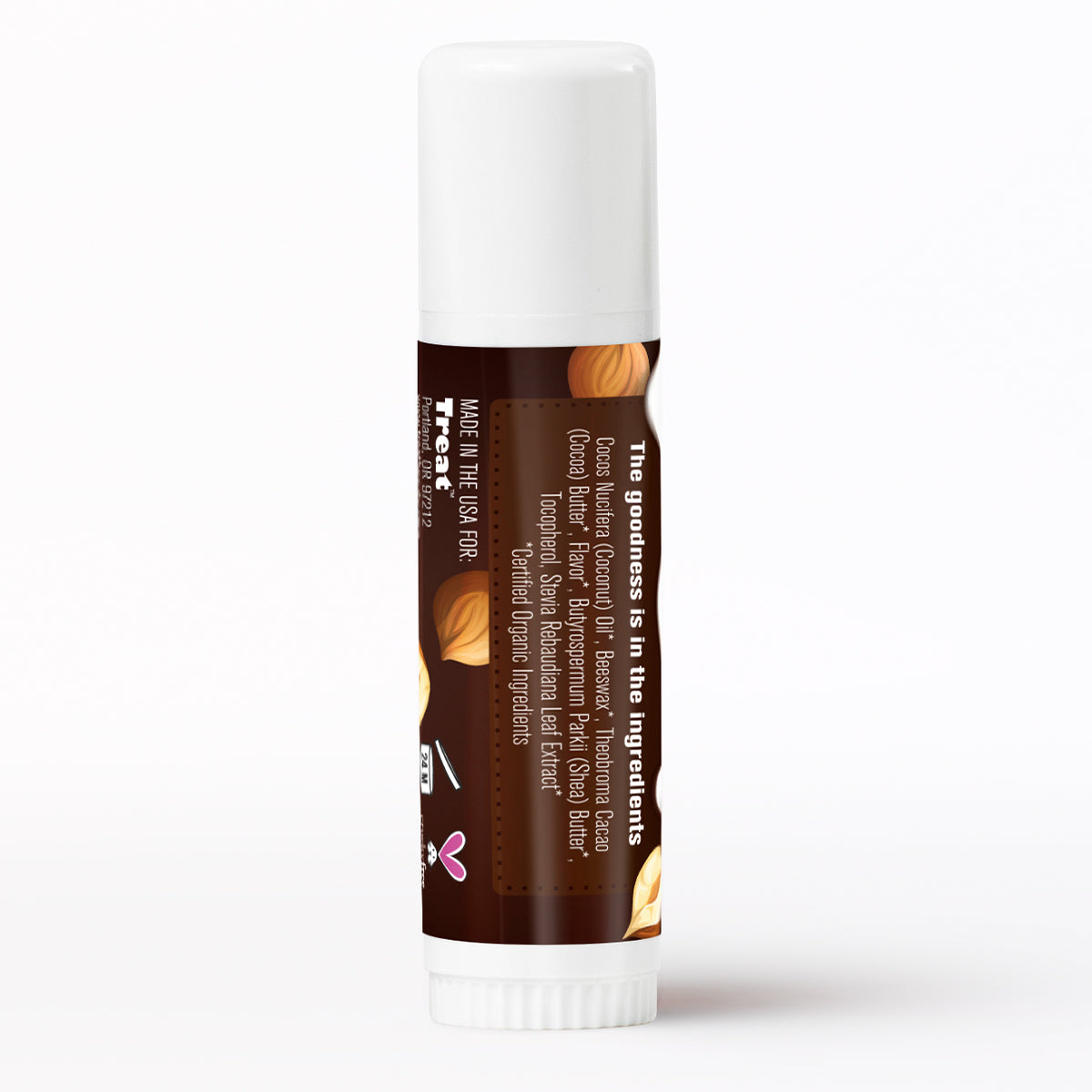 See why bigger is better
(Your lips will thank you)
Each jumbo lip balm is .50 oz - more than 3x the size of a regular lip balm!
⭐️ ⭐️ ⭐️ ⭐️ ⭐️
"Just got this one and already love it. I expected it to taste like Nutella, but it's definitely more of a richer dark chocolate flavor. To me, the hazelnut flavor is stronger than the chocolate flavor, but dark chocolate is the strongest in the scent. Kind of like eating a dark chocolate covered hazelnut. Also, I love how smooth and creamy it is to apply!" - Katherine
Always 100% Natural
All our Treats are formulated with the best ingredients available!
100% cruelty free – never tested on animals – PETA recognized