Regular price
Sale price
$13.99
Unit price
per
Sale
Sold out
"Woo-eee! That's SOUR!" That's what I said when I tasted this Big Mouth Sour Candy Jumbo Organic Lip Balm recipe for the first time. I knew we had packed in as much citric acid as we could – that's the flavor element that delivers the ZING! But when you try it yourself, you'll be amazed how it makes your mouth water – not to mention hydrates your lips.
To get this extreme flavor profile, I started with a base of Organic Sour Apple – just like my original Sour Candy Jumbo Lip Balm, but then I did something different. Instead of adding lemon, I mixed in Organic Grape & Lime along with as much Citric Acid as physically possible for an exceptional dose of sour. So, for fans of the original Sour Candy recipe, look for Big Mouth Sour Candy to be more intense and have those sweet grape and tangy lime hints. Next, the flavors were folded into my signature moisturizing blend of Organic Virgin Coconut Oil, Organic Beeswax and Organic Cocoa Butter. The result is a lip-soothing salve wrapped up in one seriously intense sour candy experience!
At 3 times the size of regular lip balms, Big Mouth Sour Candy Lip Balm lasts and lasts – and applies with one swoosh! Slather it on all day and let the natural ingredients sink into your lips, locking in hydration for a tasty, healing feel. The citric acid also works as a mild exfoliant, so prepare for a softer pucker – not to mention an extraordinarily powerful sweet and sour taste!
A DELICIOUS MEGA-SIZE ORGANIC LIP BALM TO SOOTHE EVEN YOUR WORST CHAPPED LIPS


TRIPLE THE VALUE AND NOURISHMENT – EACH JUMBO LIP BALM IS .50 OZ - MORE THAN 3 TIMES THE SIZE OF A REGULAR LIP  BALM

MADE IN THE U.S. - GREAT FOR KIDS (OF ALL AGES) – DELICIOUS & FUN

USDA CERTIFIED ORGANIC - NO ARTIFICIAL OR SYNTHETIC INGREDIENTS

100% CRUELTY FREE – NEVER TESTED ON ANIMALS – PETA RECOGNIZED
Flavor Details: Organic Sour Apple base, along with Organic Grape & Lime and as much Citric Acid as physically possible for an exceptional dose of sour.
Share
View full details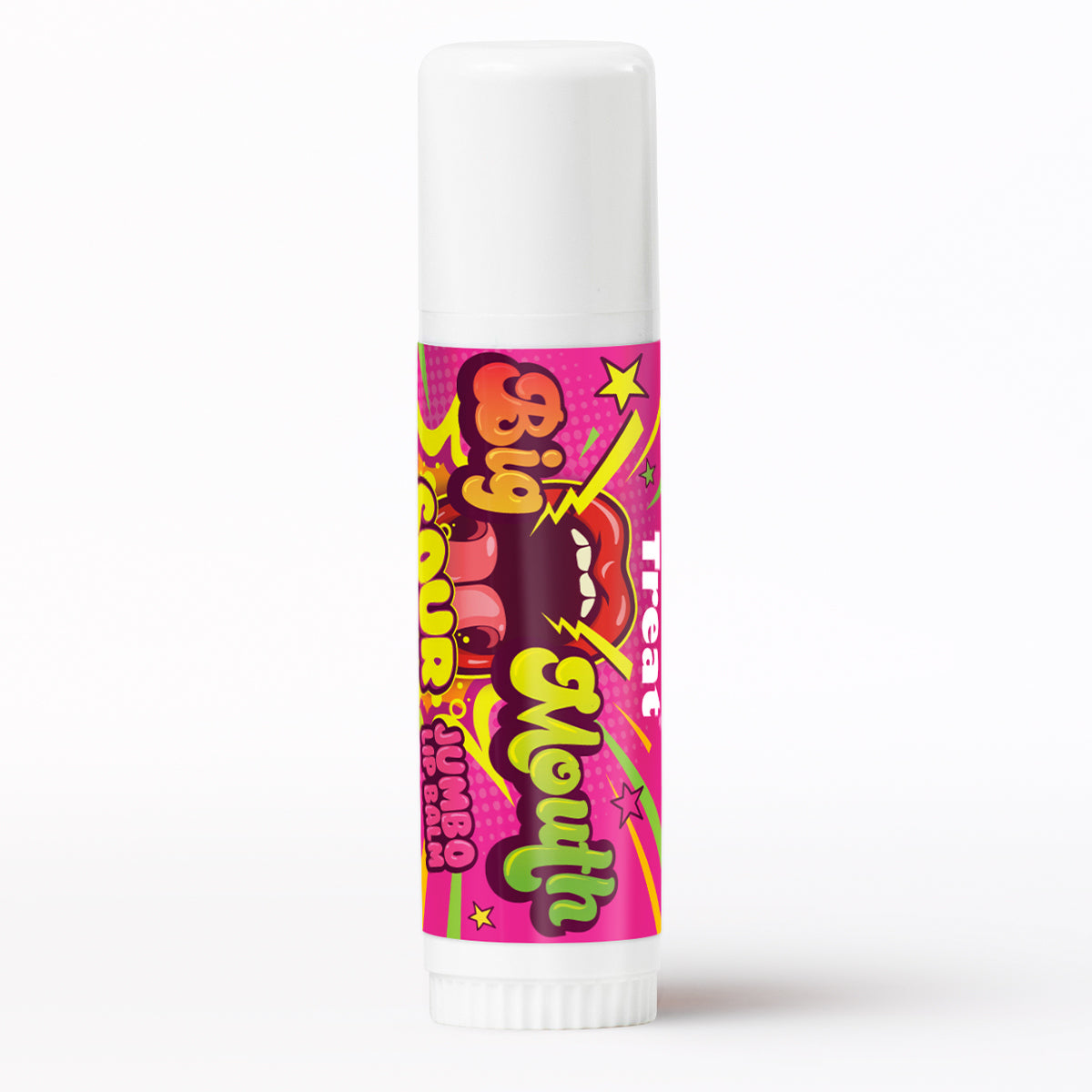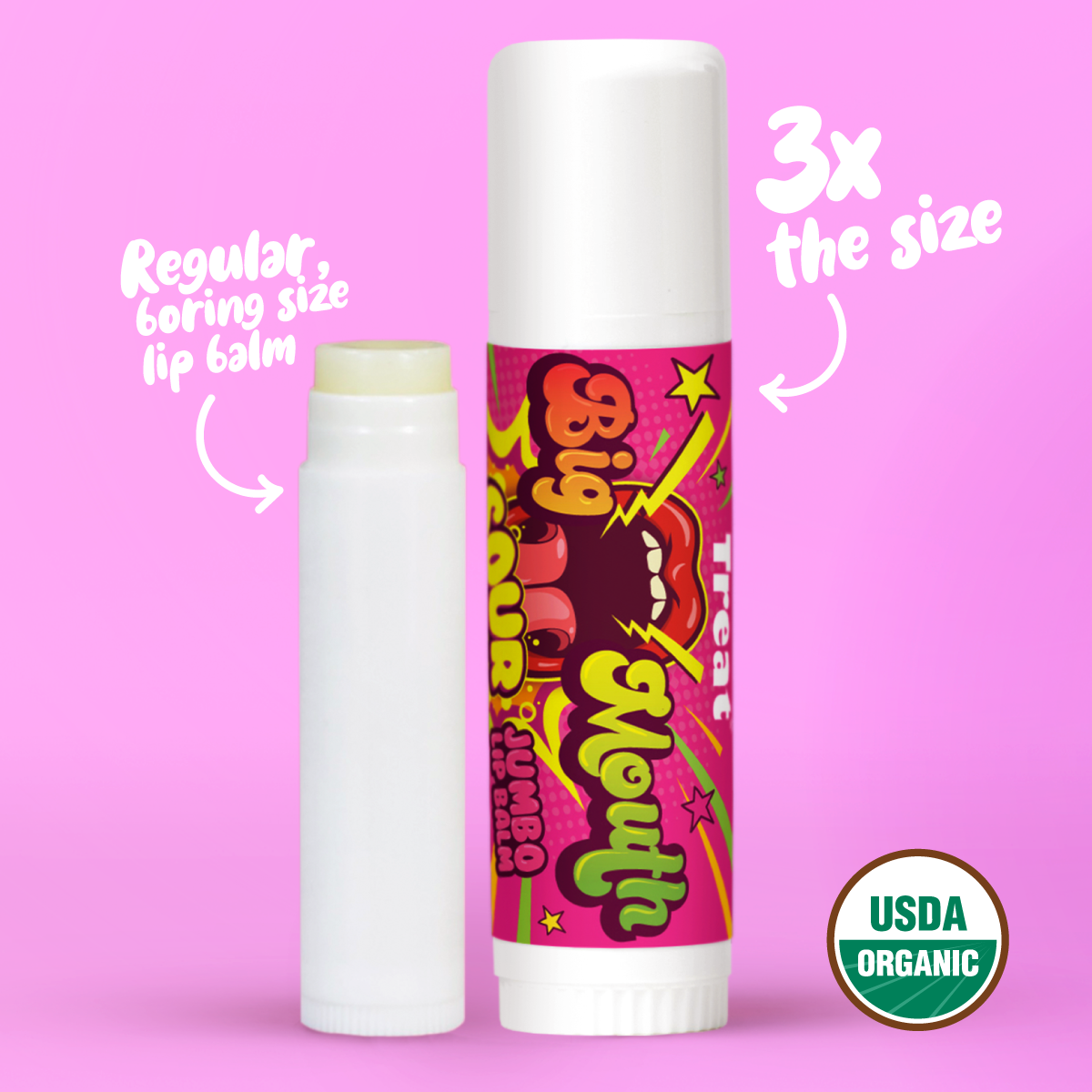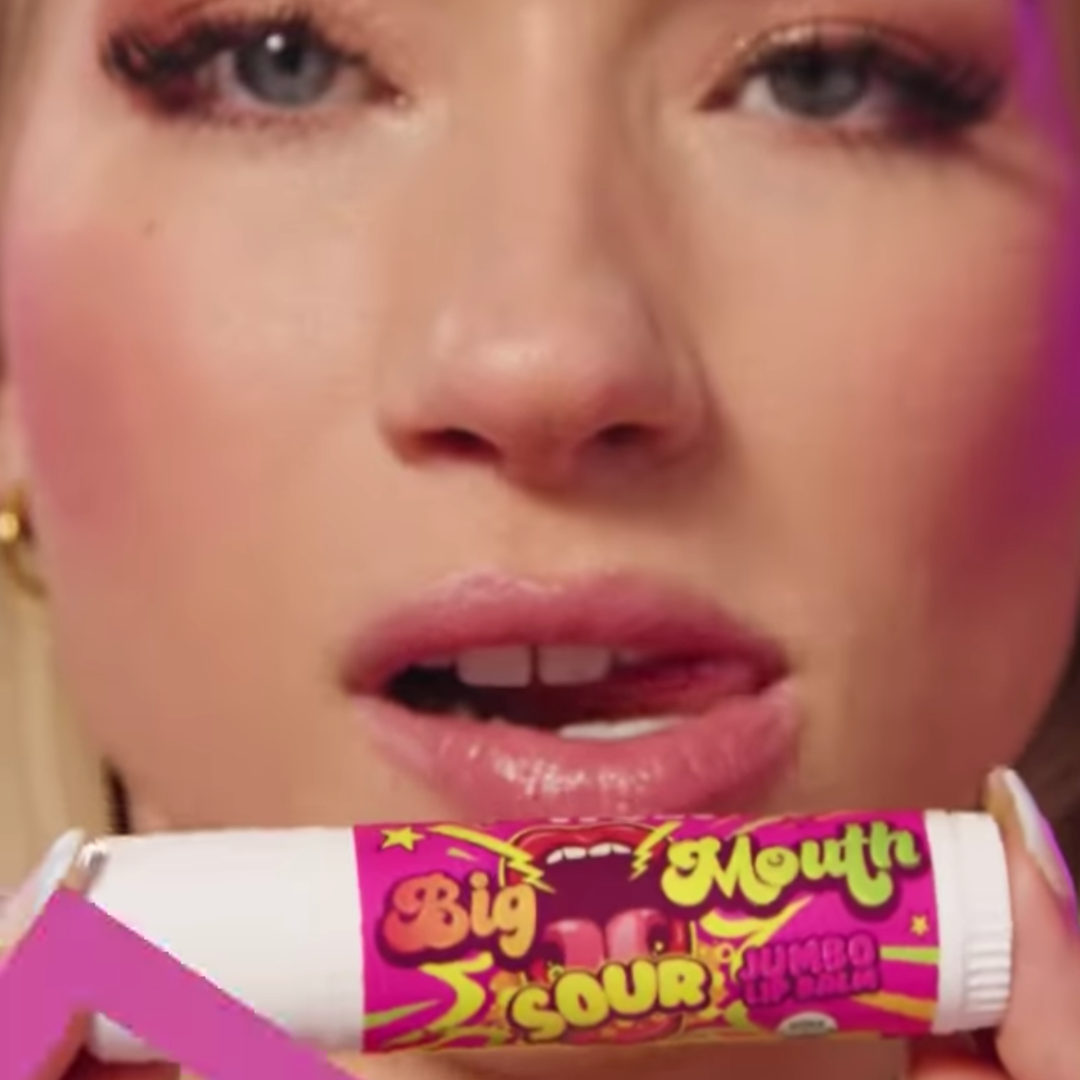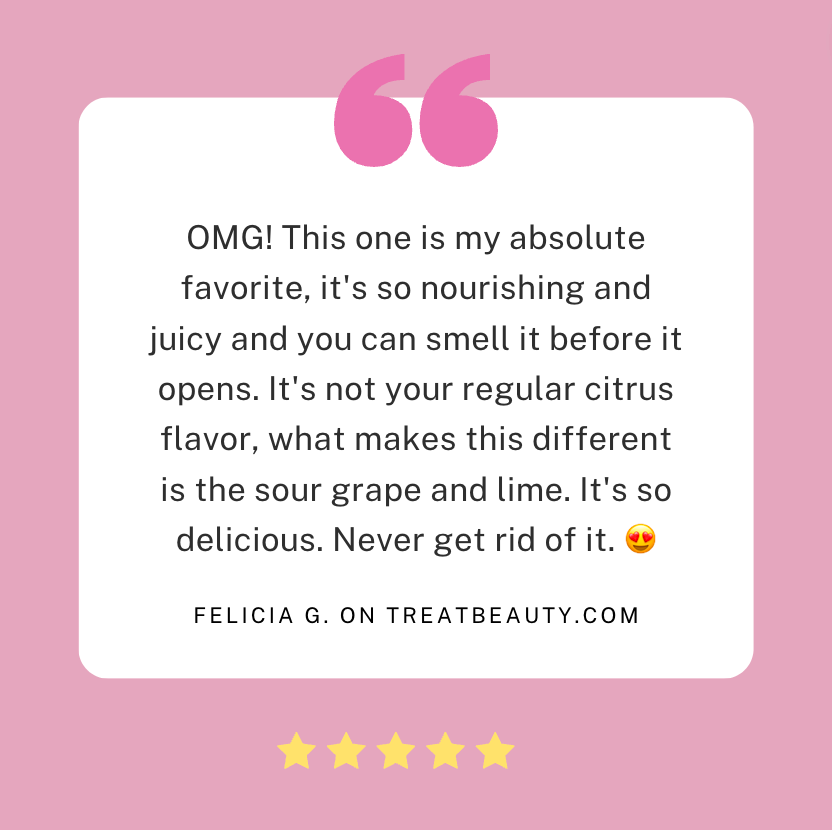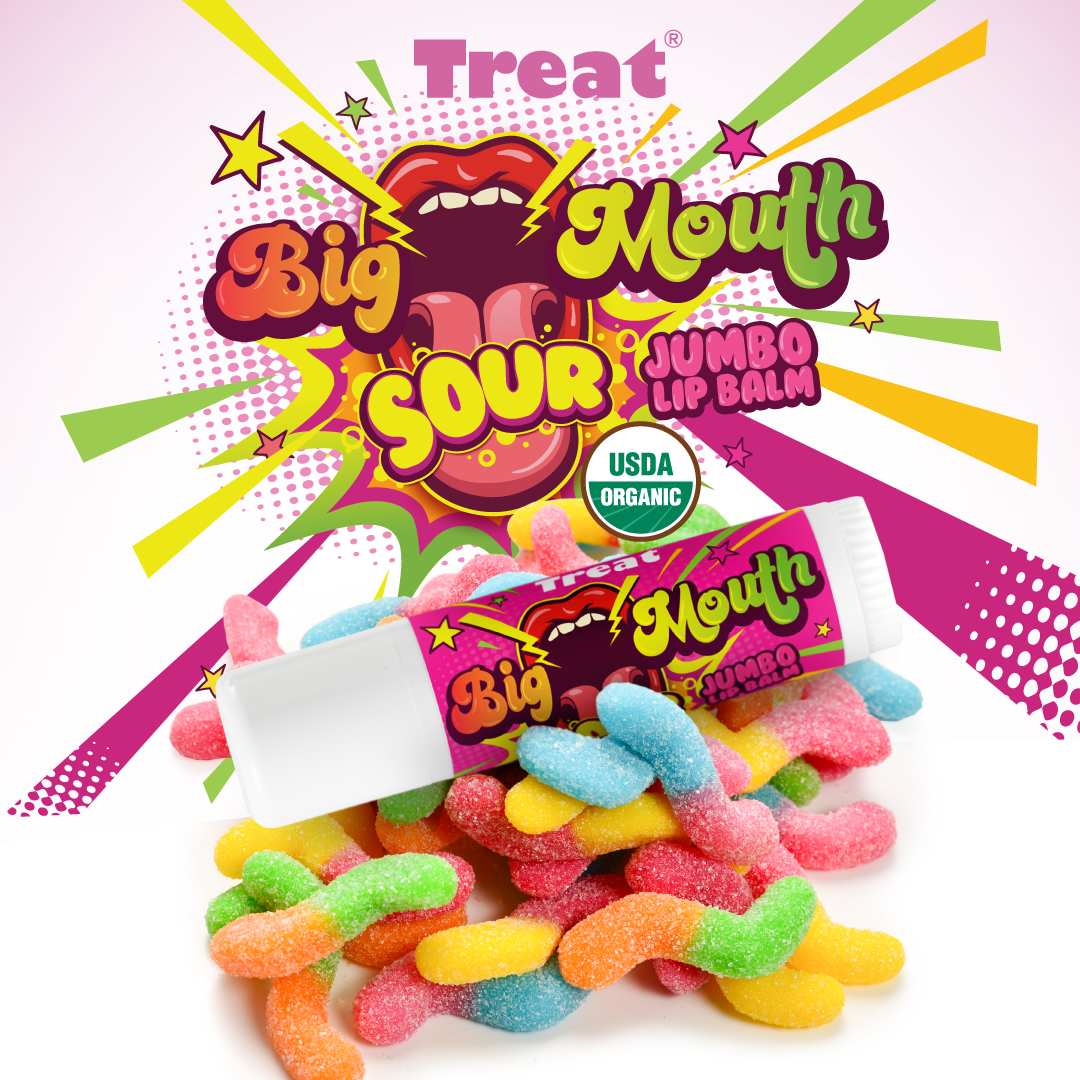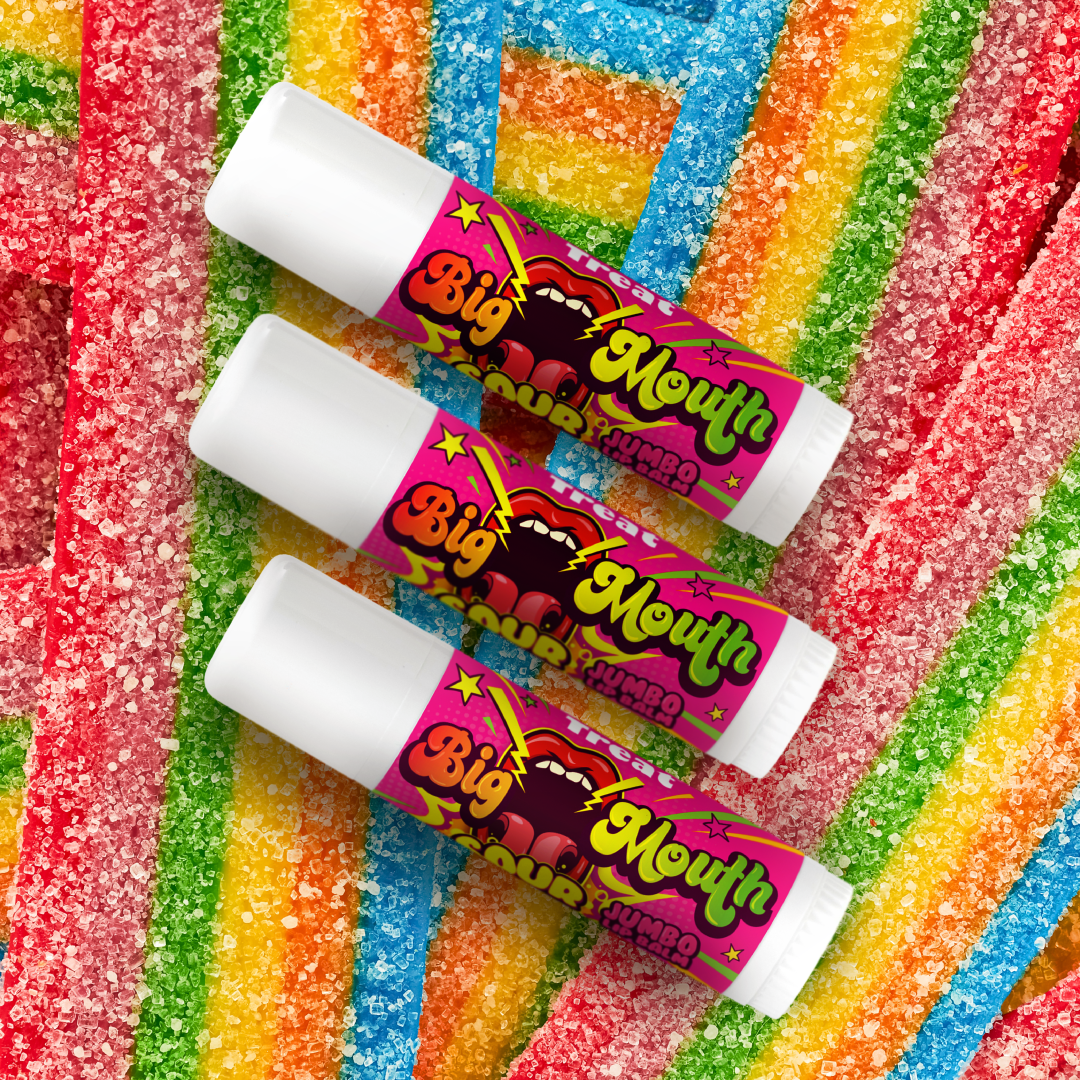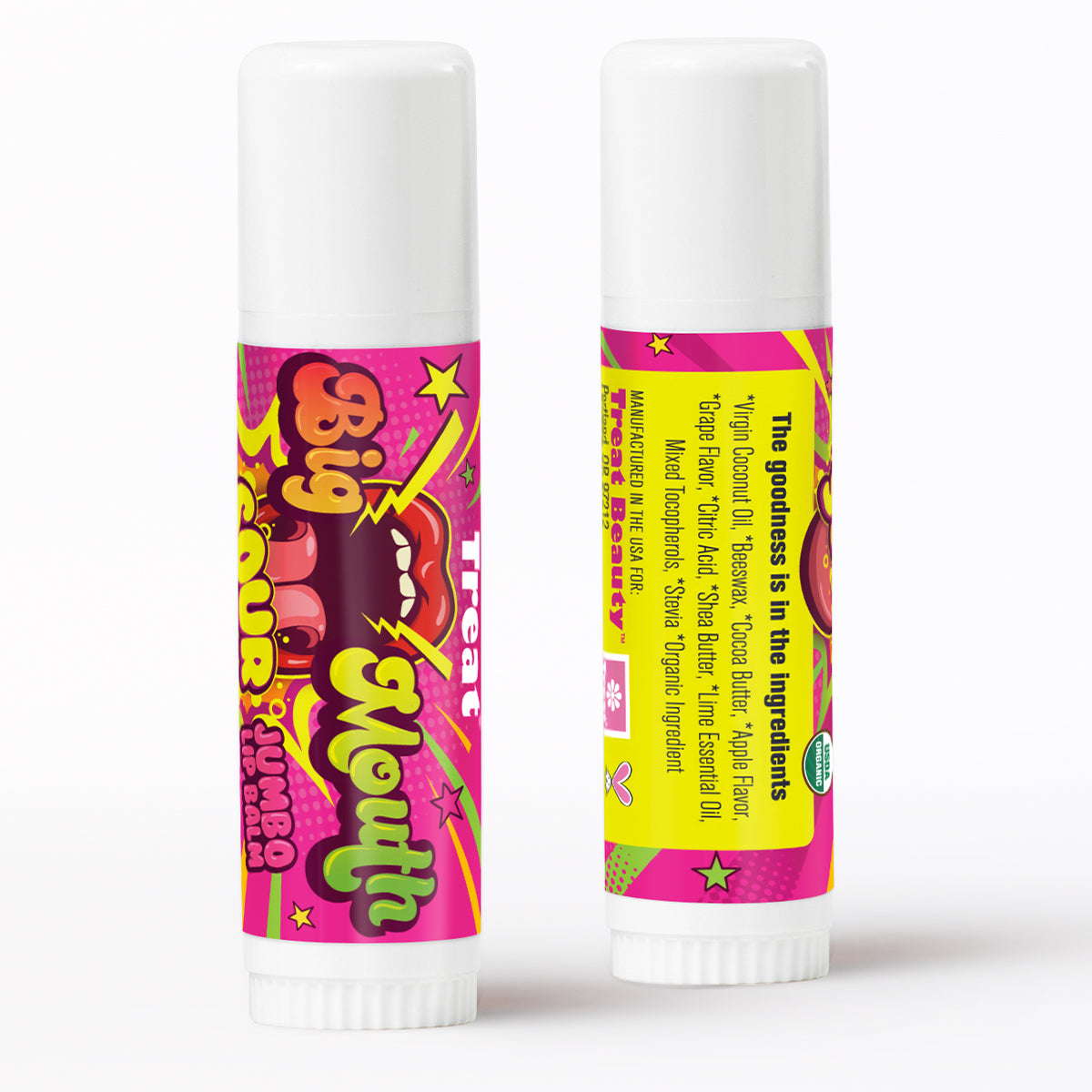 See why bigger is better
(Your lips will thank you)
Each jumbo lip balm is .50 oz - more than 3x the size of a regular lip balm!
⭐️ ⭐️ ⭐️ ⭐️ ⭐️
OMG. Blue and Red gummy worm!
"This one is my absolute favorite, it's so nourishing and juicy and you can smell it before it opens. It's not your regular citrus flavor, what makes this different is the sour grape and lime. It's so delicious. Never get rid of!!"- Felicia
Always 100% Natural
All our Treats are formulated with the best ingredients available!
100% cruelty free – never tested on animals – PETA recognized