Regular price
Sale price
$13.99
Unit price
per
Sale
Sold out
🌟 Lip Pizzazz for All Ages 🌟
Indulge in Candy Apple Dreams: Elevate your lip care with Candy Apple Jumbo Organic Lip Balm from Treat Beauty.

Mega Moisture, Mega Flavor: Pamper your lips with jumbo-sized lip hydration and the delightful taste of candy apple.

Unforgettable Flavor: Make your lips the talk of the town with our unique, rich candy apple taste and a hint of cinnamon.
🍎 Sweet Rich Candy Apple 🍎
Total Lip Transformation: Bid farewell to dry, chapped lips and say hello to a soft, irresistible pout that's as sweet as candy.

Natural Wonder: Our lip balm is enriched with Organic Coconut Oil, Beeswax, Cocoa Butter, and Shea Butter for ultimate, natural moisture infusion.

Savor Sweet Bliss: Immerse yourself in lip perfection with Candy Apple Jumbo Organic Lip Balm from Treat Beauty.
The Candy Apple Inspiration: Imagine yourself at the carnival, the air filled with the scent of cotton candy and candy apples. That moment you take your first bite, the sweetness, the hint of cinnamon - it's an experience that lingers in your memory. We aimed to capture that joy and infuse it into our jumbo-sized lip balm. Made with love and natural ingredients, it's like carrying a piece of the carnival in your pocket. Experience the magic of candy apples with Candy Apple Jumbo Organic Lip Balm and own the sweetness every day. For a total carnival experience, try my Cotton Candy Jumbo Organic Lip Balm.
Ingredients

What's in this hydrating recipe?

*Organic Virgin Coconut Oil, *Organic Beeswax, *Organic Flavor (organic fruit & plant extracts in a vegetable carrier oil), *Organic Cocoa Butter, *Organic Shea Butter, Vitamin E, *Organic Stevia Leaf Extract

*Certified Organic Ingredients
Share
View full details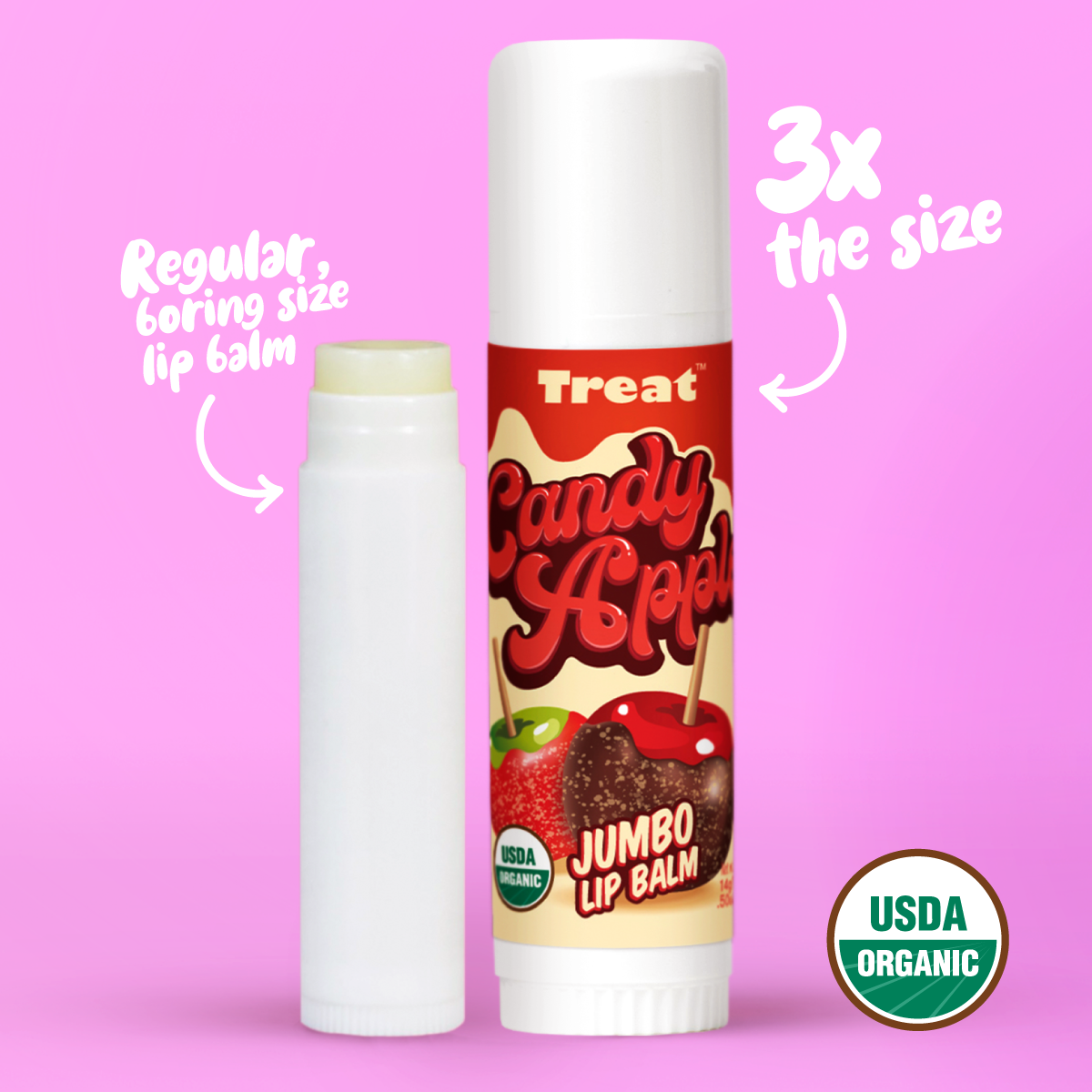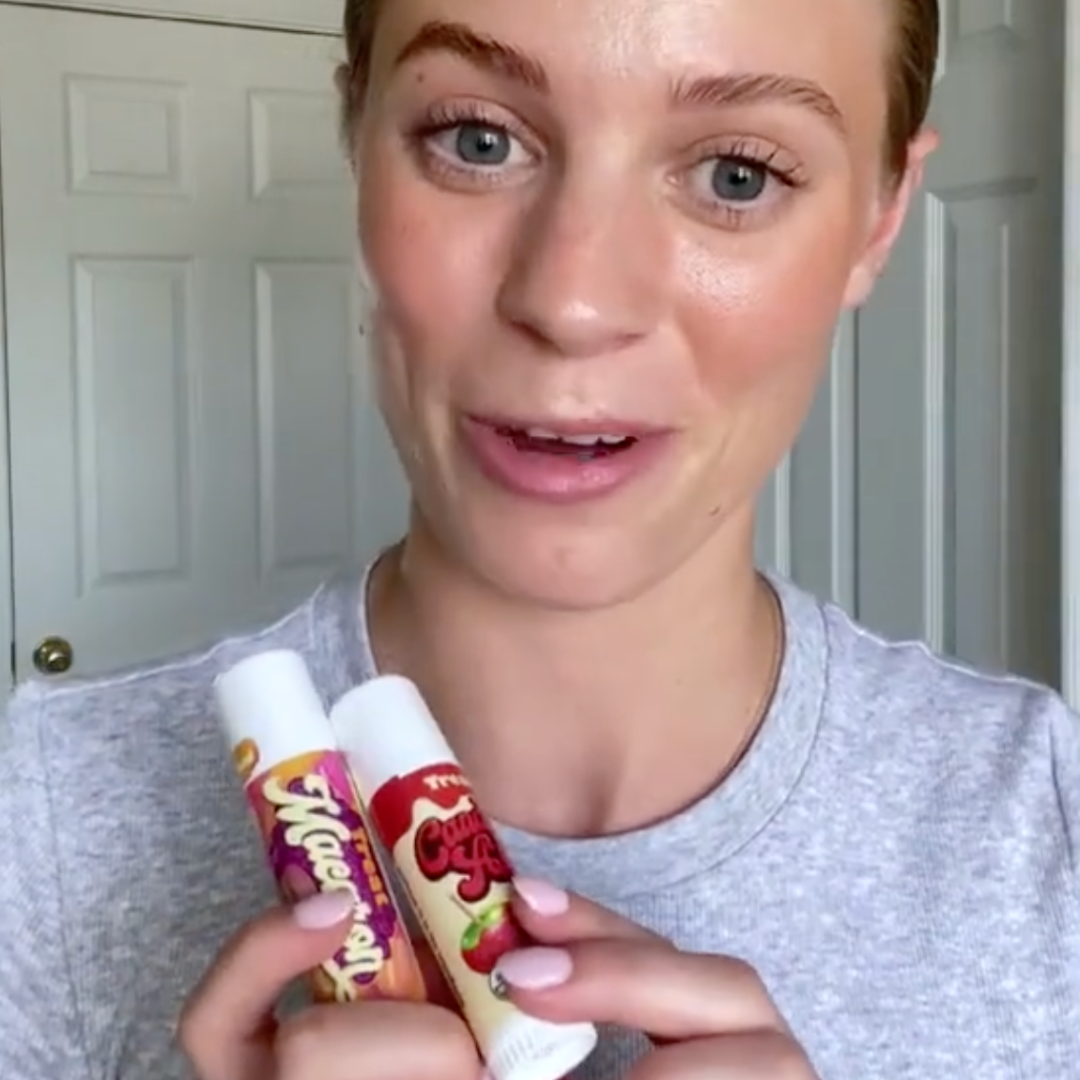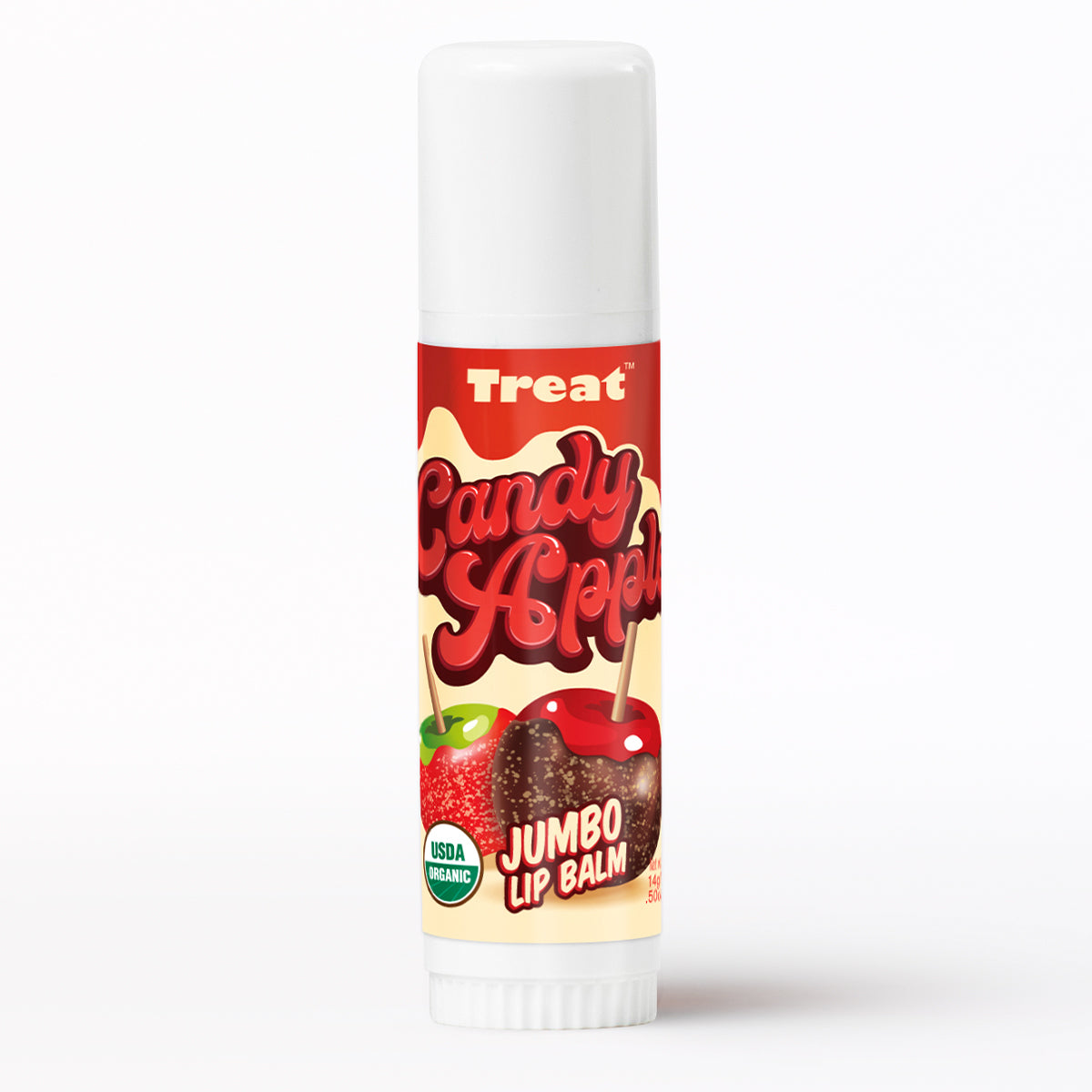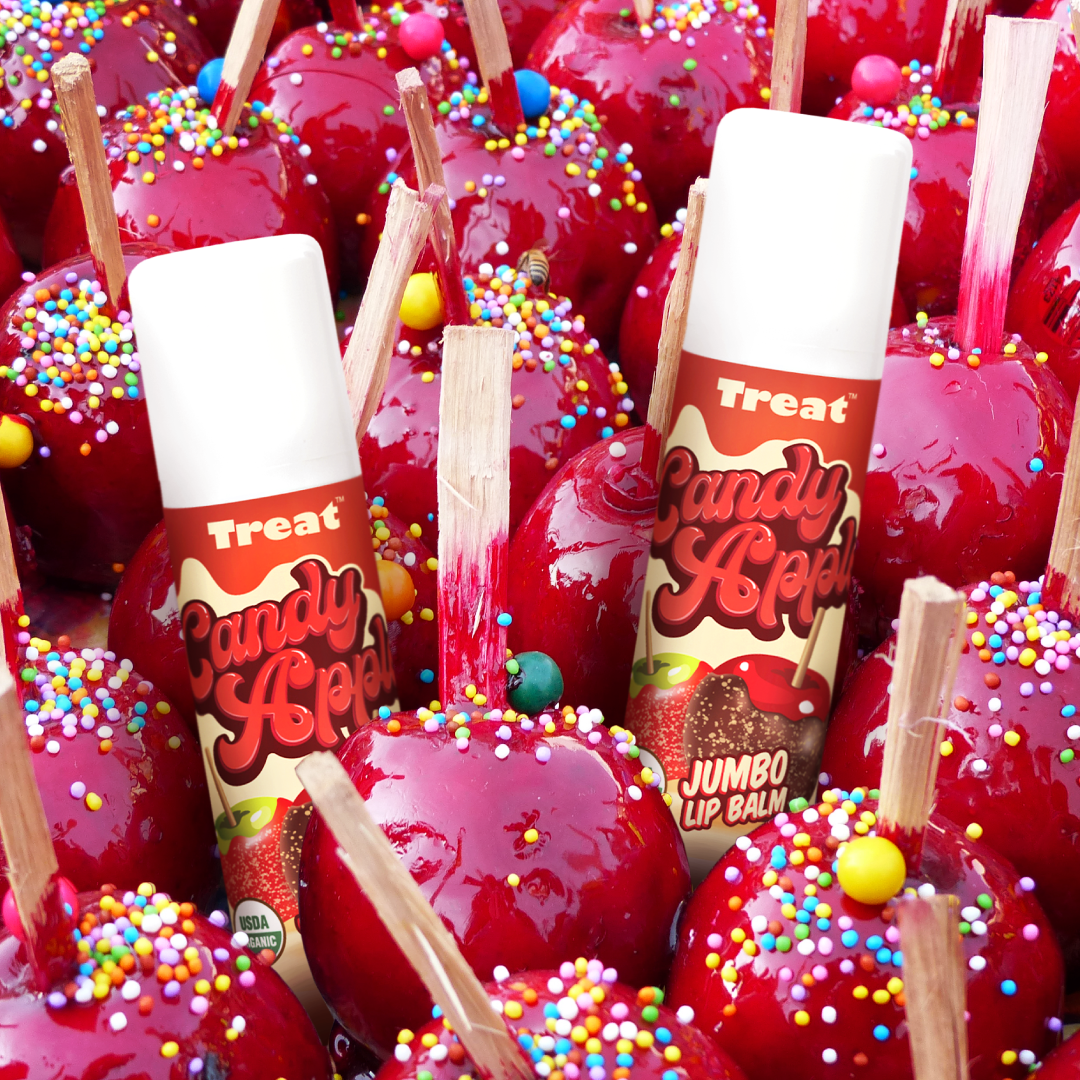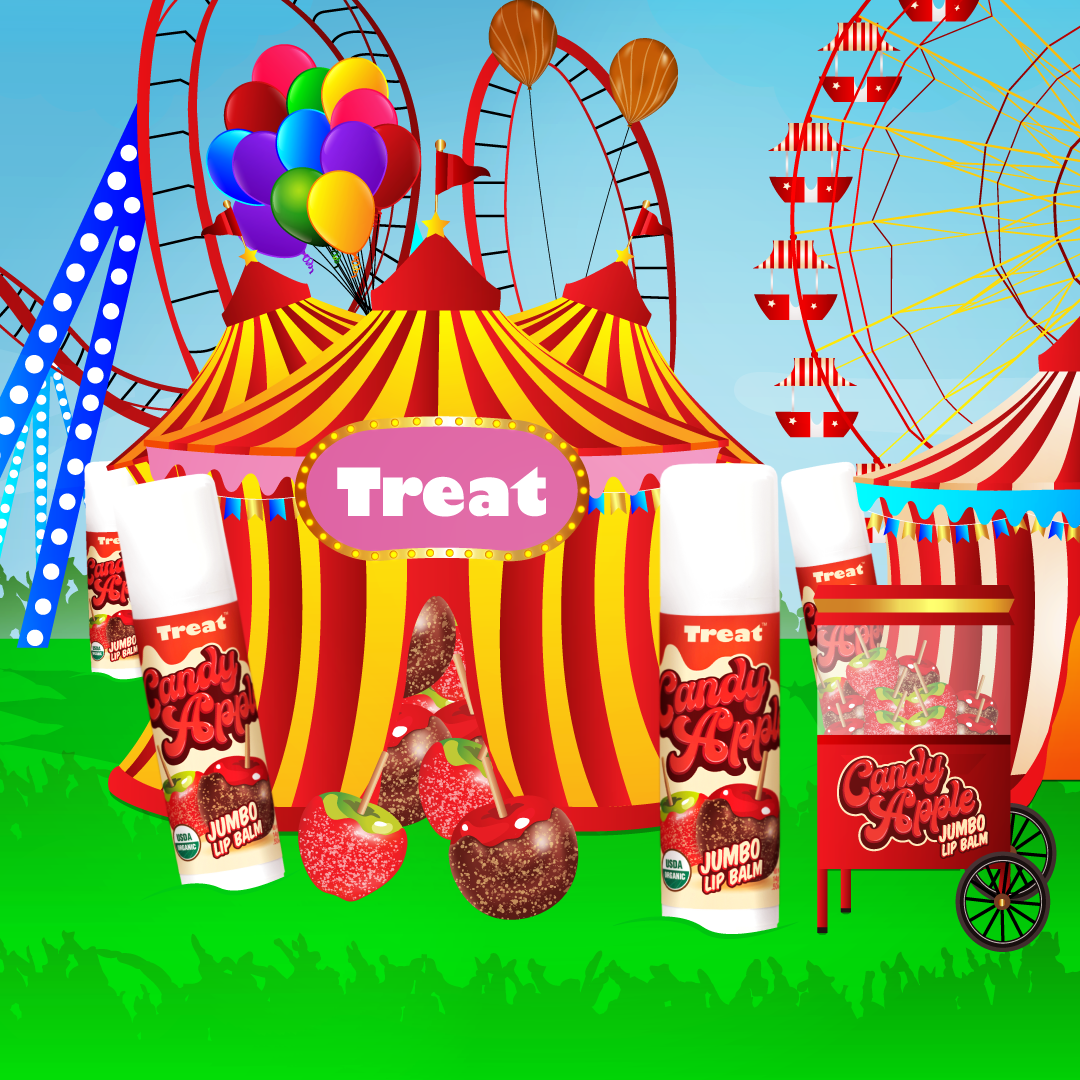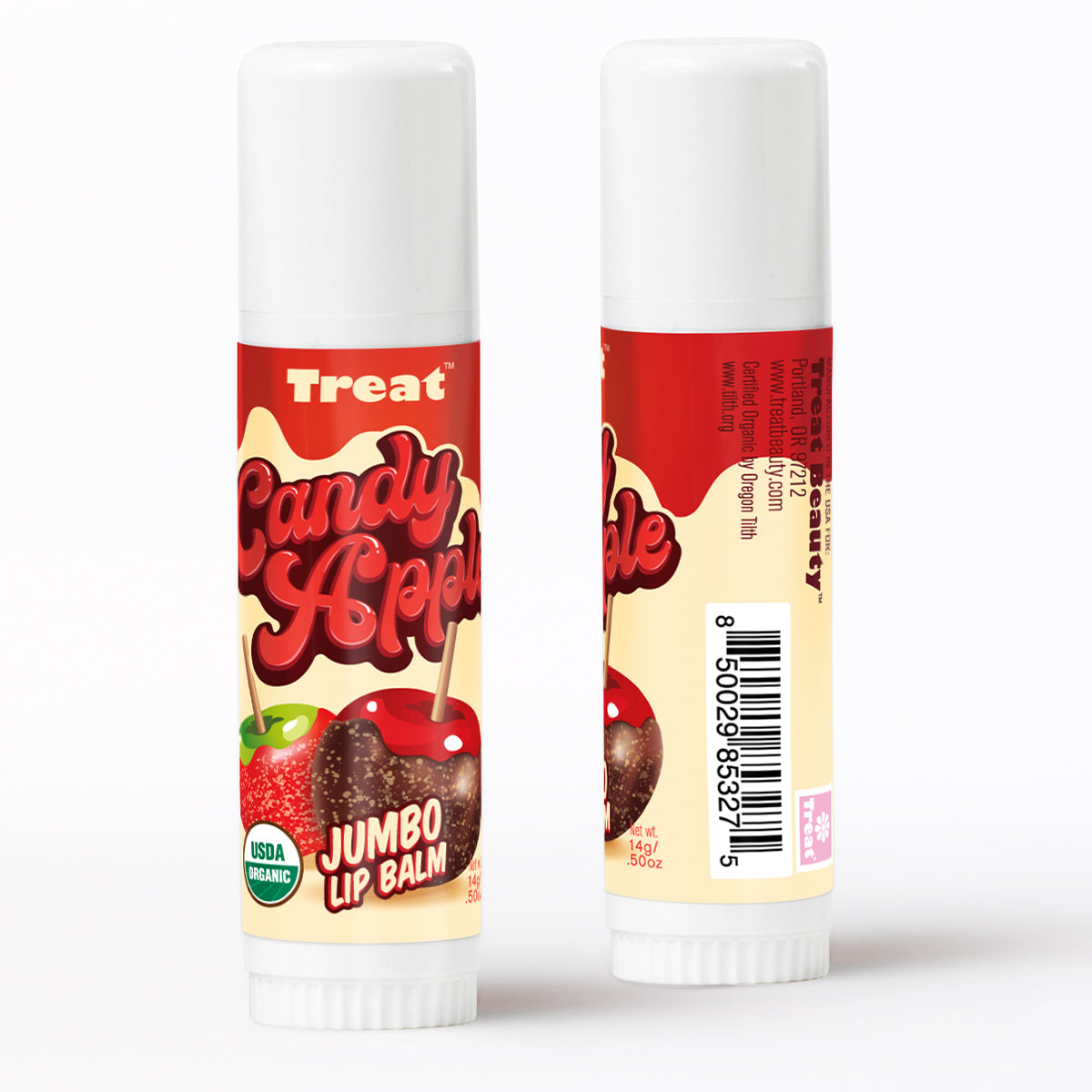 See why bigger is better
(Your lips will thank you)
Each jumbo lip balm is .50 oz - more than 3x the size of a regular lip balm!
⭐️ ⭐️ ⭐️ ⭐️ ⭐️
"If you're a fan of cinnamon and apples, this Treat is for you! I absolutely love this new addition! I wasn't sure what to expect from this one as I've never actually eaten a candy apple. But I love apples and I love cinnamon candy so this was a winner for me! I find this fall inspired balm so cozy! It reminds me of Autumn and all its Apple glory." - Tamara
Always 100% Natural
All our Treats are formulated with the best ingredients available!
100% cruelty free – never tested on animals – PETA recognized