Regular price
Sale price
$13.99
Unit price
per
Sale
Sold out
Why settle for a smidgen when you can have a smorgasbord? That's right, darlings! My lip balm is more than 3x the size of those puny chapsticks you've been settling for. Bigger is not just better; it's juicier, it's yummier, and it's oh-so-much-more satisfying!
A Watermelon Wonderland for Your Lips!
Imagine this: A hot summer day, the sun is shining, and you're biting into a juicy slice of watermelon. Now, what if you could capture that essence and keep it with you all year round? Voila! My Watermelon Jumbo Organic Lip Balm is a pocket-sized paradise that's good enough to eat (although we recommend you stick to smearing it on those luscious lips).
Certified Organic, Unapologetically Delicious!
We're not just about size; we're about substance too! My lip balm is certified organic, made with the finest, all-natural ingredients that are as good for Mother Earth as they are for your lips. Free from parabens, sulfates, and artificial nonsense, this is the epitome of guilt-free indulgence.
The Ultimate Organic Lip Care Experience!
Are you on a quest for the best organic lip balm that offers long-lasting lip hydration? Your search ends here! My Watermelon Jumbo Organic Lip Balm is not just a treat; it's a sensation. With its jumbo-sized goodness and flavorful organic ingredients, we're setting a new standard in lip care that's both indulgent and responsible.
Why Choose When You Can Indulge?
Why limit yourself to a fleeting moment of flavor when you can have a long-lasting love affair with your lip balm? My Watermelon Jumbo Organic Lip Balm is not just a product; it's an experience. An experience of size, flavor, and sheer joy that you won't find anywhere else.
So go ahead, make room in your purse, your pocket, or your heart for the biggest, yummiest lip balm of all time. Because at Treat Beauty, we believe that life is too short for small indulgences.
Order now, and let your lips live large!
A DELICIOUS ORGANIC LIP BALM TO SOOTHE EVEN YOUR WORST CHAPPED LIPS

TRIPLE THE VALUE AND NOURISHMENT – EACH JUMBO LIP BALM IS .50 OZ - MORE THAN 3 TIMES THE SIZE OF A REGULAR LIP  BALM

MADE IN THE U.S. - GREAT FOR KIDS (OF ALL AGES) – DELICIOUS & FUN

USDA CERTIFIED ORGANIC - NO ARTIFICIAL OR SYNTHETIC INGREDIENTS

100% CRUELTY FREE – NEVER TESTED ON ANIMALS – PETA RECOGNIZED
Flavor Details: Sweet and juicy watermelon flavor. 
Share
View full details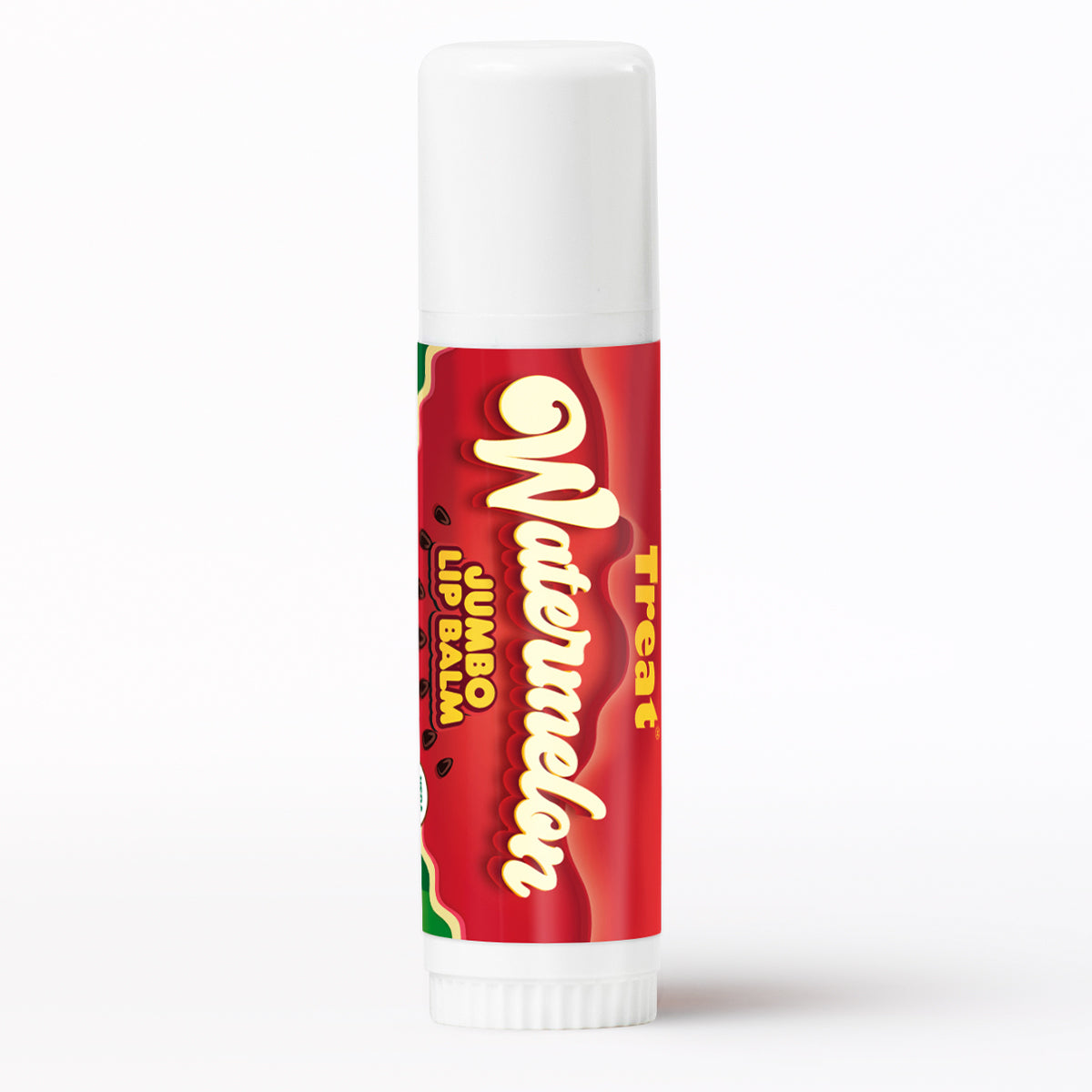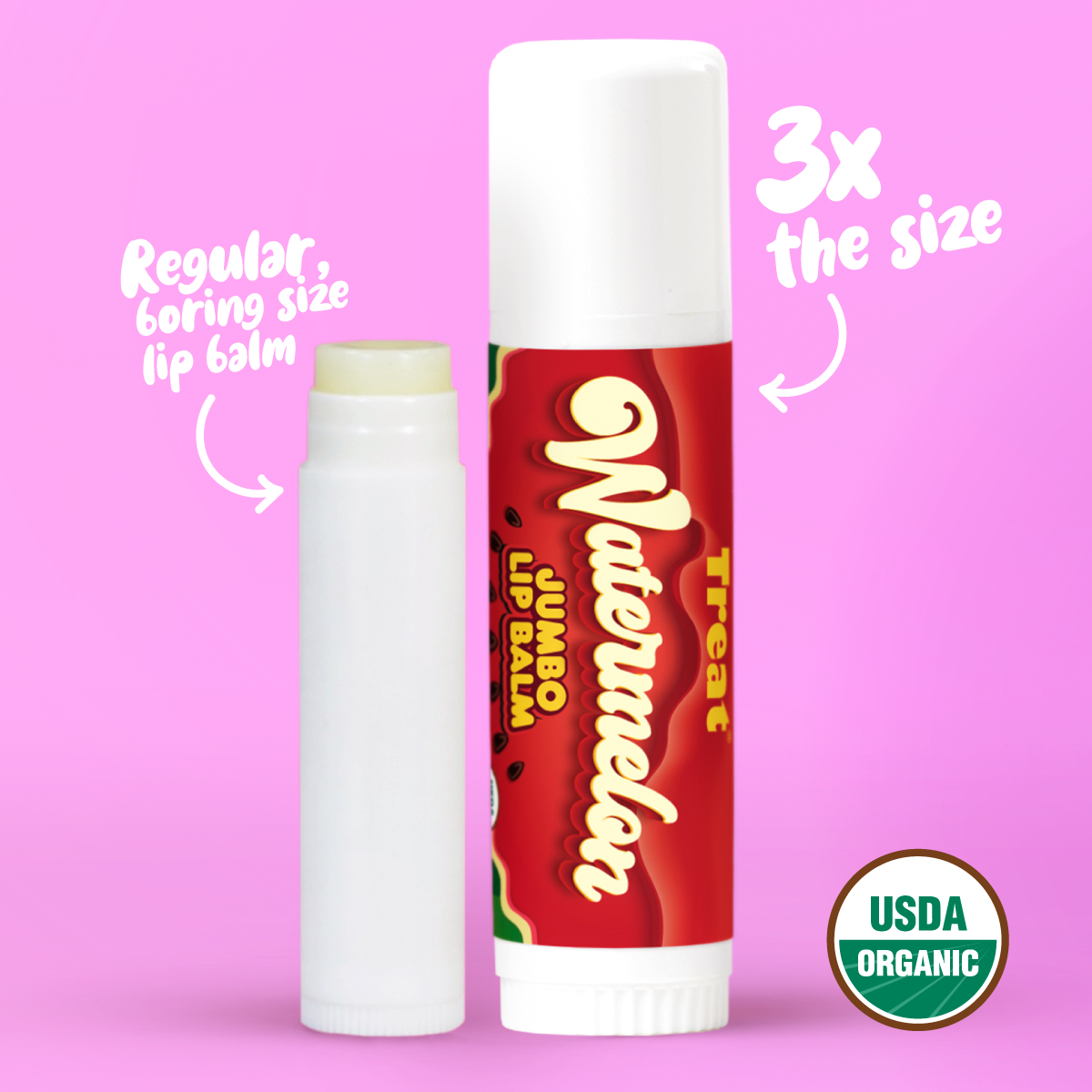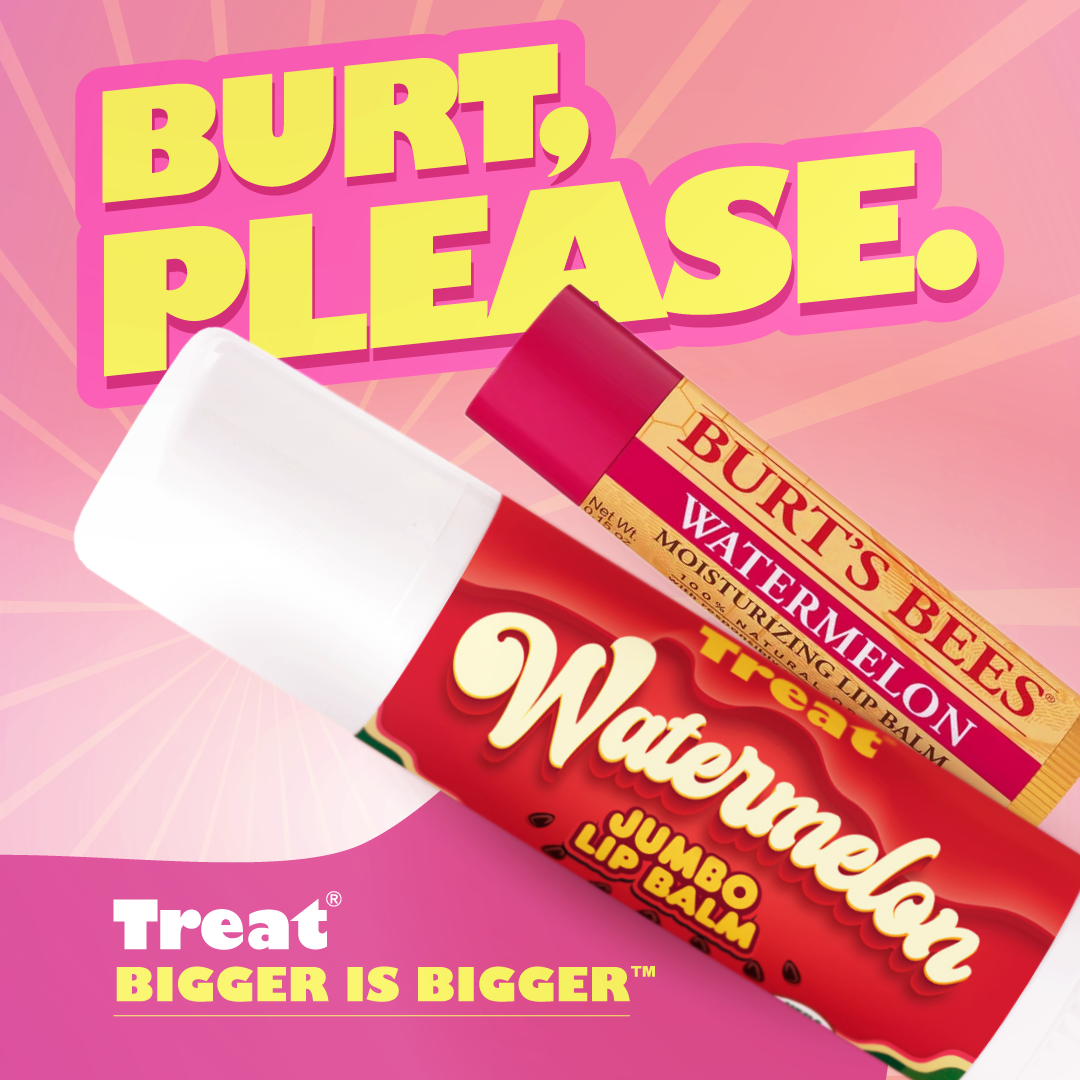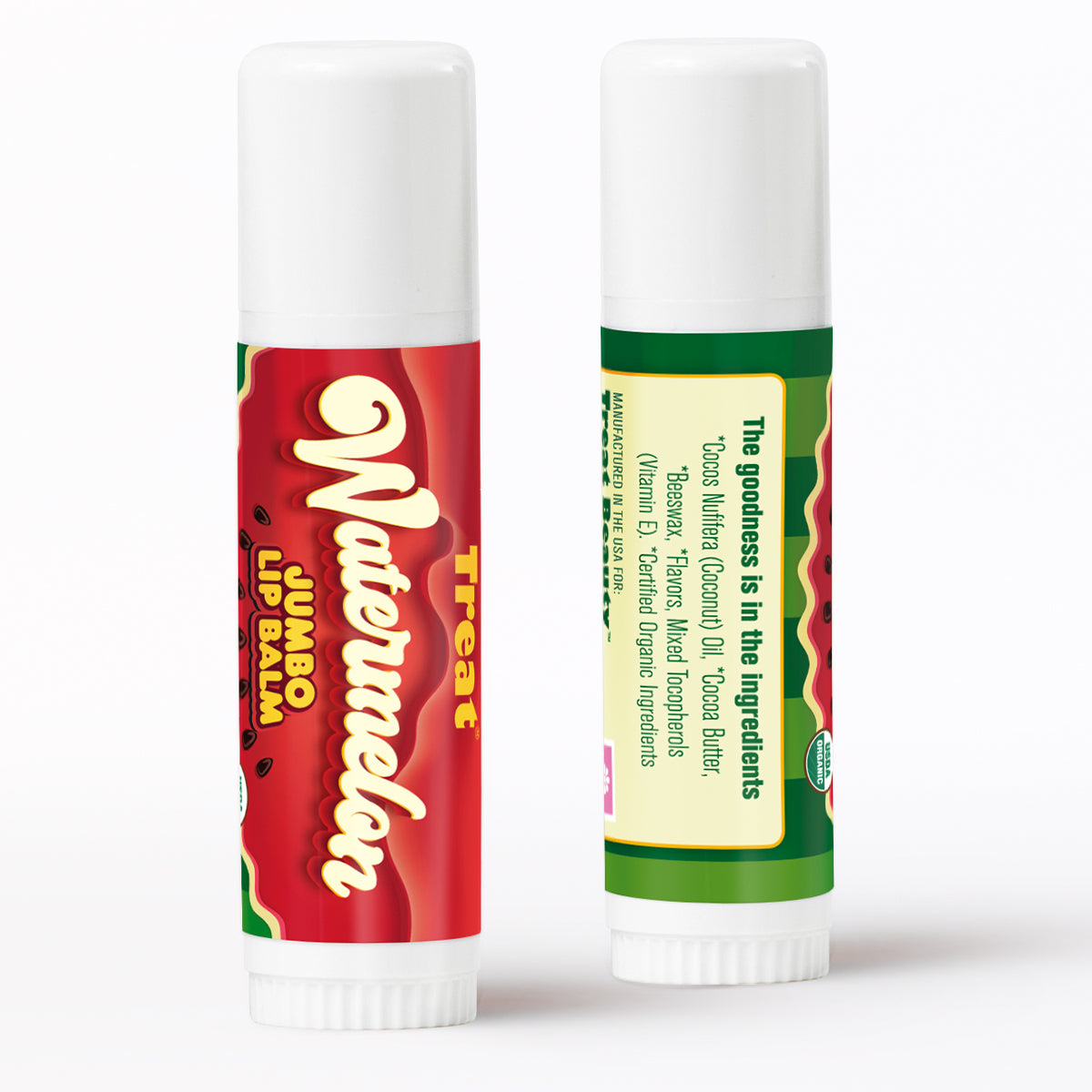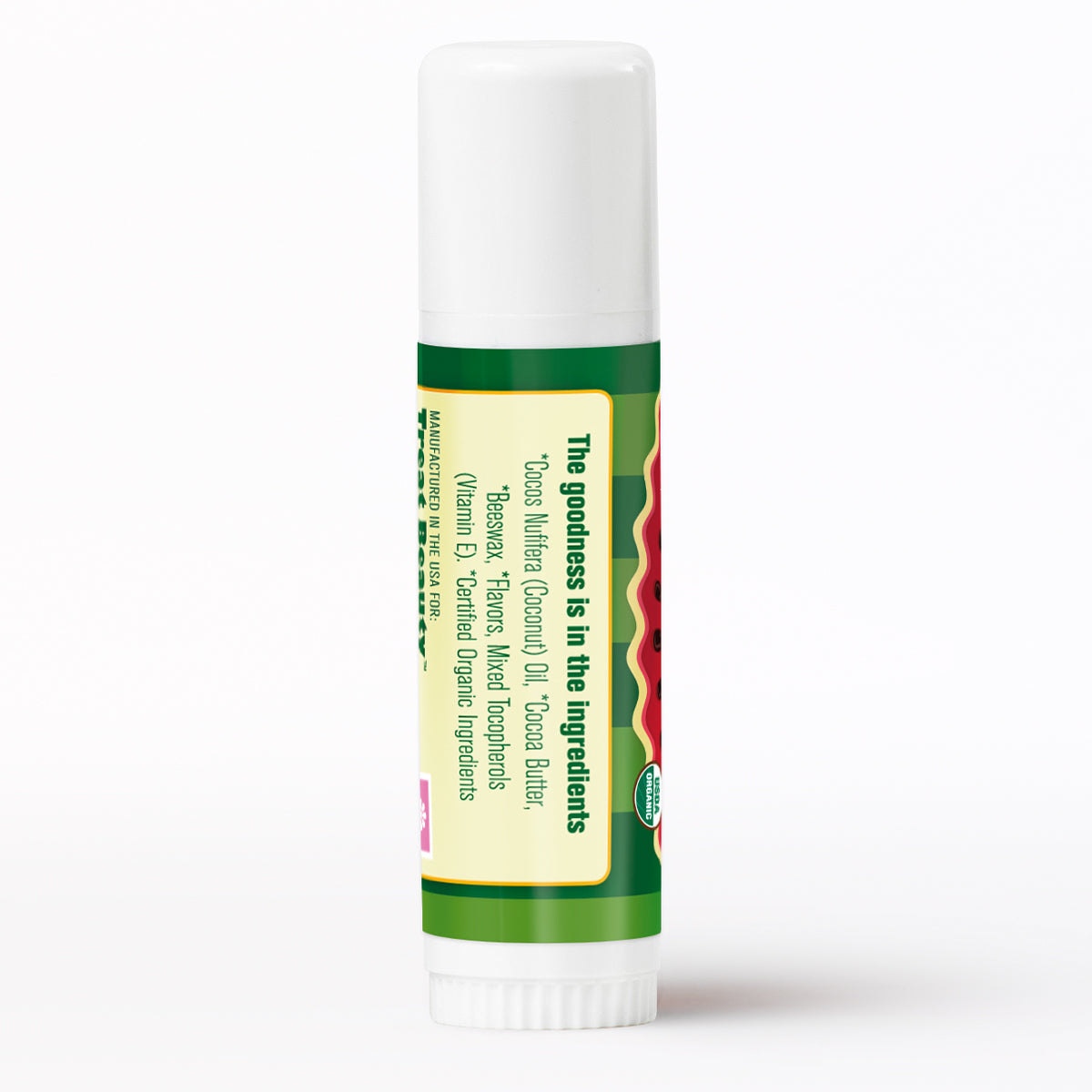 See why bigger is better
(Your lips will thank you)
Each jumbo lip balm is .50 oz - more than 3x the size of a regular lip balm!
⭐️ ⭐️ ⭐️ ⭐️ ⭐️
"It reminds me of a watermelon jolly rancher! A little less potent, but in my opinion that's perfect for this. This was my first fruit balm I've tried (thanks for the bday gift!) and I'm sure I'll be getting more!"-DMcM
Always 100% Natural
All our Treats are formulated with the best ingredients available!
100% cruelty free – never tested on animals – PETA recognized